Ziel war es einen Kaffeebecher und ein dazugehöriges Kreislaufsystem zu
entwickeln, welche die momentane Problematik der Umweltverschmutzung aufgreift und dieses durch 
reduziertes aber funktionales Design zu lösen versucht.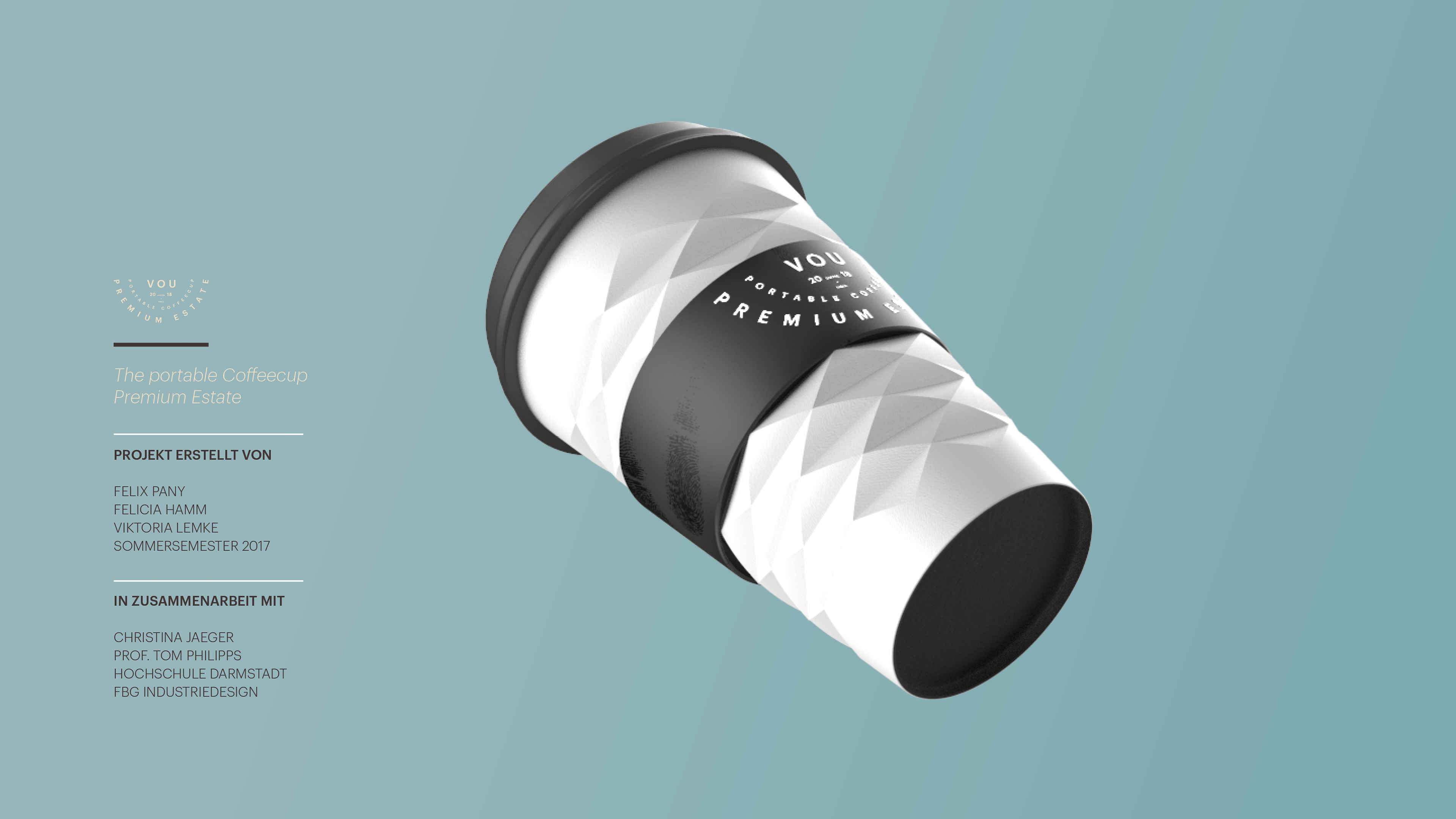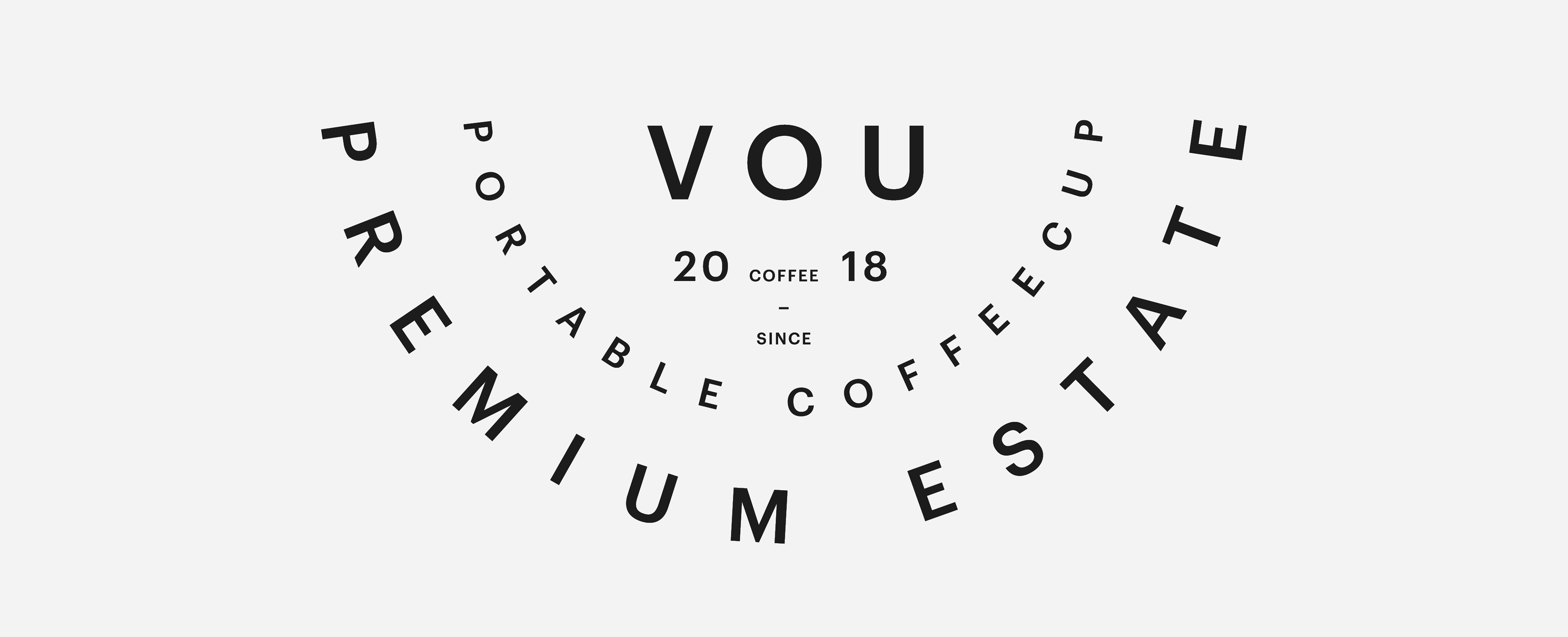 The goal was to create a coffee mug and a related circulatory system. Through his functional design it should solve the current problem of environmental pollution. 
Todays society is challenged with the problem of  recycling of  traditional coffee to go mugs. 
The reasons for the uncontrolled disposal are obvious. Beside factors like comfort, time pressure and acting spontaneous and imprudent;  the missing bond between consumer and product and due to that the lack of benefit also plays an important role.
Der Kreislauf eines herkömmlichen Coffee to Go Bechers stellt die Gesellschaft vor eine herausfordernde Problematik, die es zu lösen gilt. Die Gründe für das unkontrollierte Entsorgen liegen nahe. Neben den Faktoren wie Komfort, Zeitdruck und spontanes, unüberlegtes Handeln, spielen auch fehlende Bindung und entsprechender Nutzen des Bechers eine herausragende Rolle.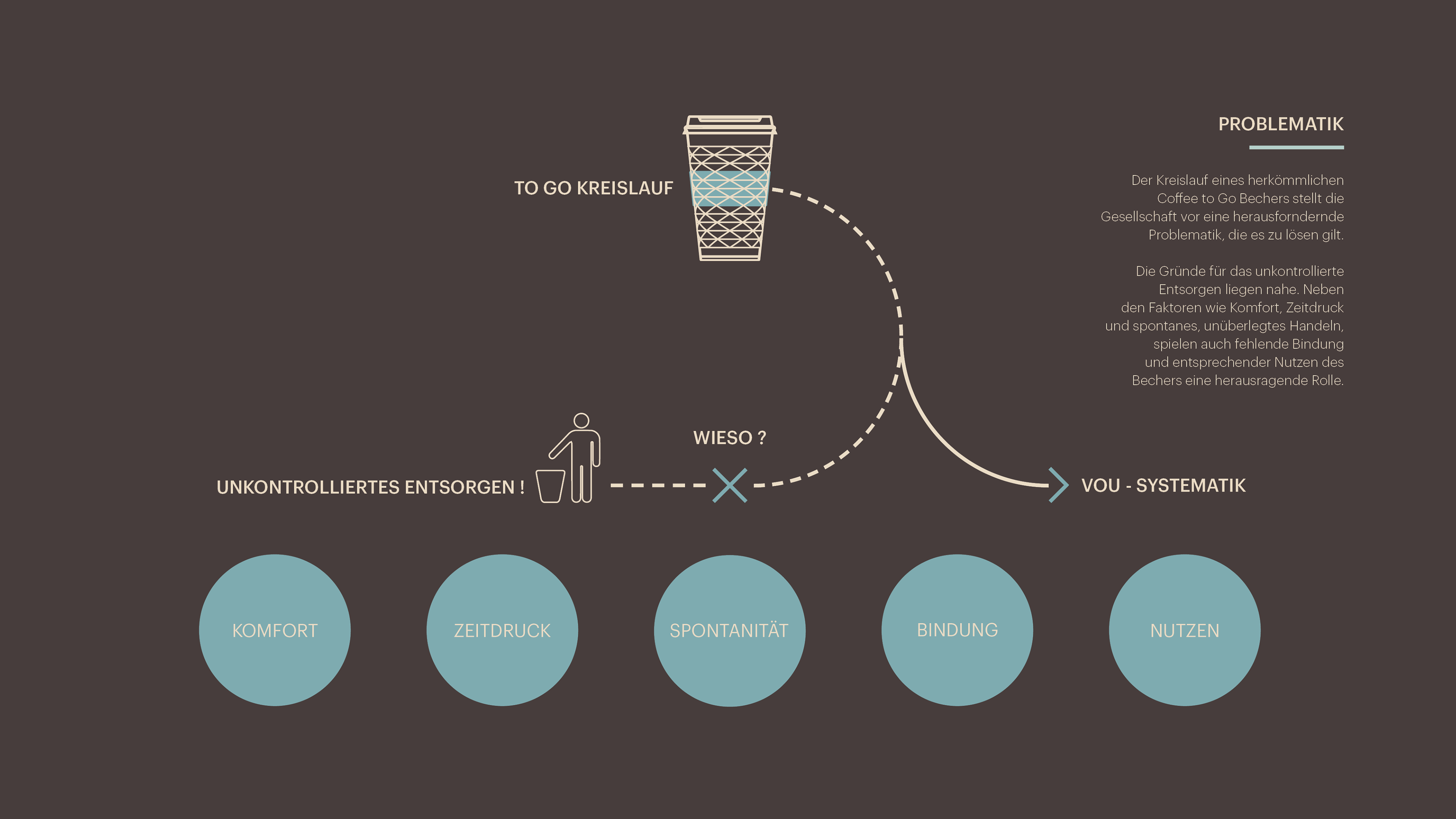 By purchasing a coffee using contacless payment with the cuff, the user can enjoy it in a relaxed atmosphere until the mug is empty. After consuming, the mug can be folded practicably by simply pressing it down and thus safely stored. The effective leakage protection is guaranteed by the cap as well as by the cuff.
When purchasing a new coffee from any dealer, the cup is exchanged via a deposit system. The credit is well written on the cuff and the coffee mug can be disposed of in a controlled manner and recycled. Controlled recycling is guaranteed because the purchase and return are made via the same reference path. New cups can thus be produced and sold again.
Durch den Kauf eine Kaffees und dem darauf folgenden bargeldlosen Bezahlen mit der Manschette kann der Nutzer den Kaffee in Ruhe zu sich nehmen, bis der Becher entleert ist. Nach dem Konsumieren des Kaffees kann der Besucher durch einfaches Herunterdrücken praktikabel gefaltet und somit sicher verstaut werden. Ein effektiver Auslaufschutz ist sowohl durch den Deckel, als auch durch die Manschette gewährleistet.
Beim Neukauf eines Kaffees durch einen beliebigen Händler, wird der Becher über ein Pfandsystem eingetauscht. Das Guthaben wird auf der Manschette gut geschrieben und der Kaffeebecher kann in der Folge kontrolliert entsorgt und verwertet werden. Ein kontrolliertes Recycling wird gewährleistet, da der Einkauf und die Rückgabe über den Selben Bezugsweg erfolgen. Neue Becher können somit recyclet, anschließend neu produziert und wieder verkauft werden.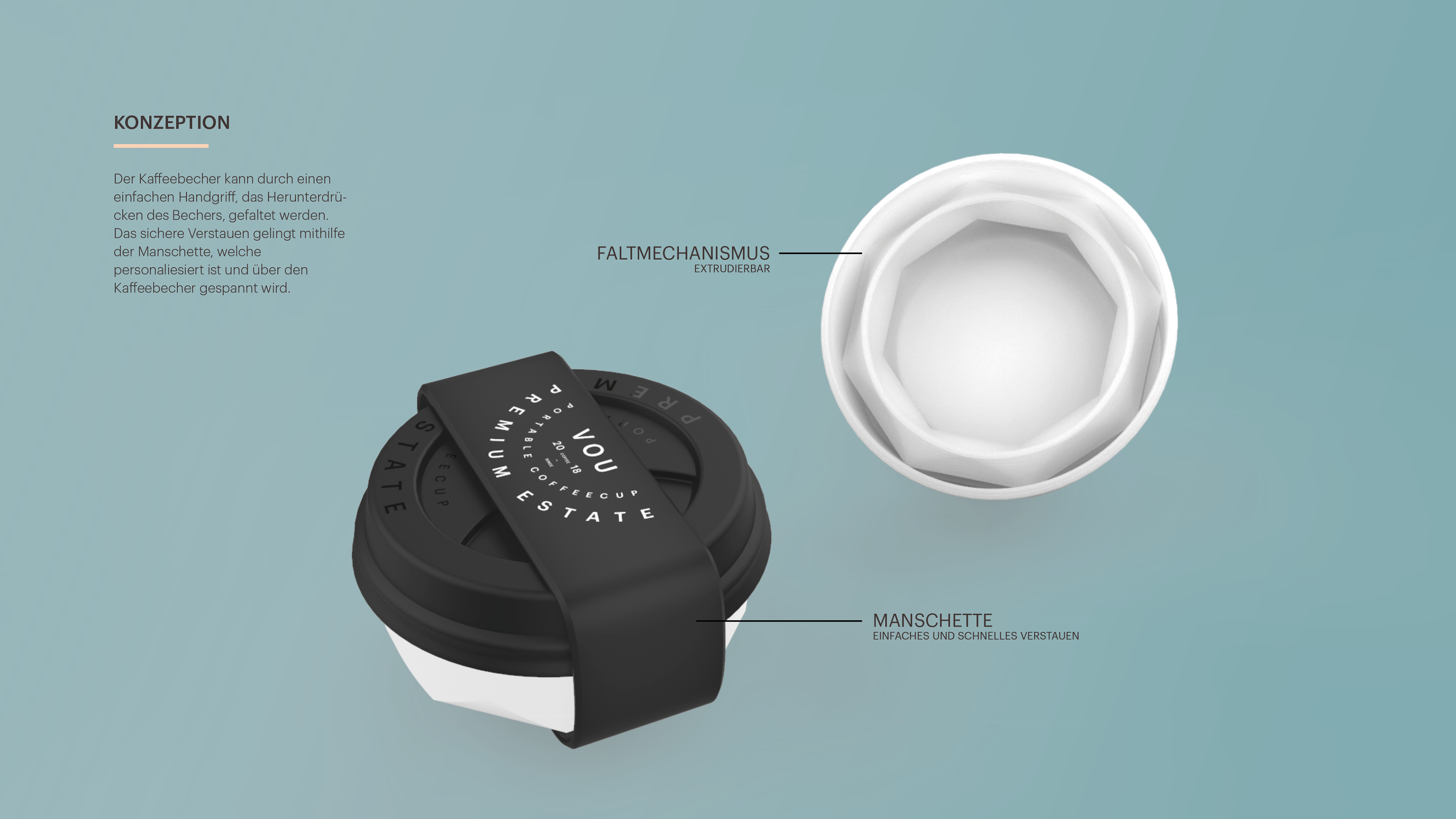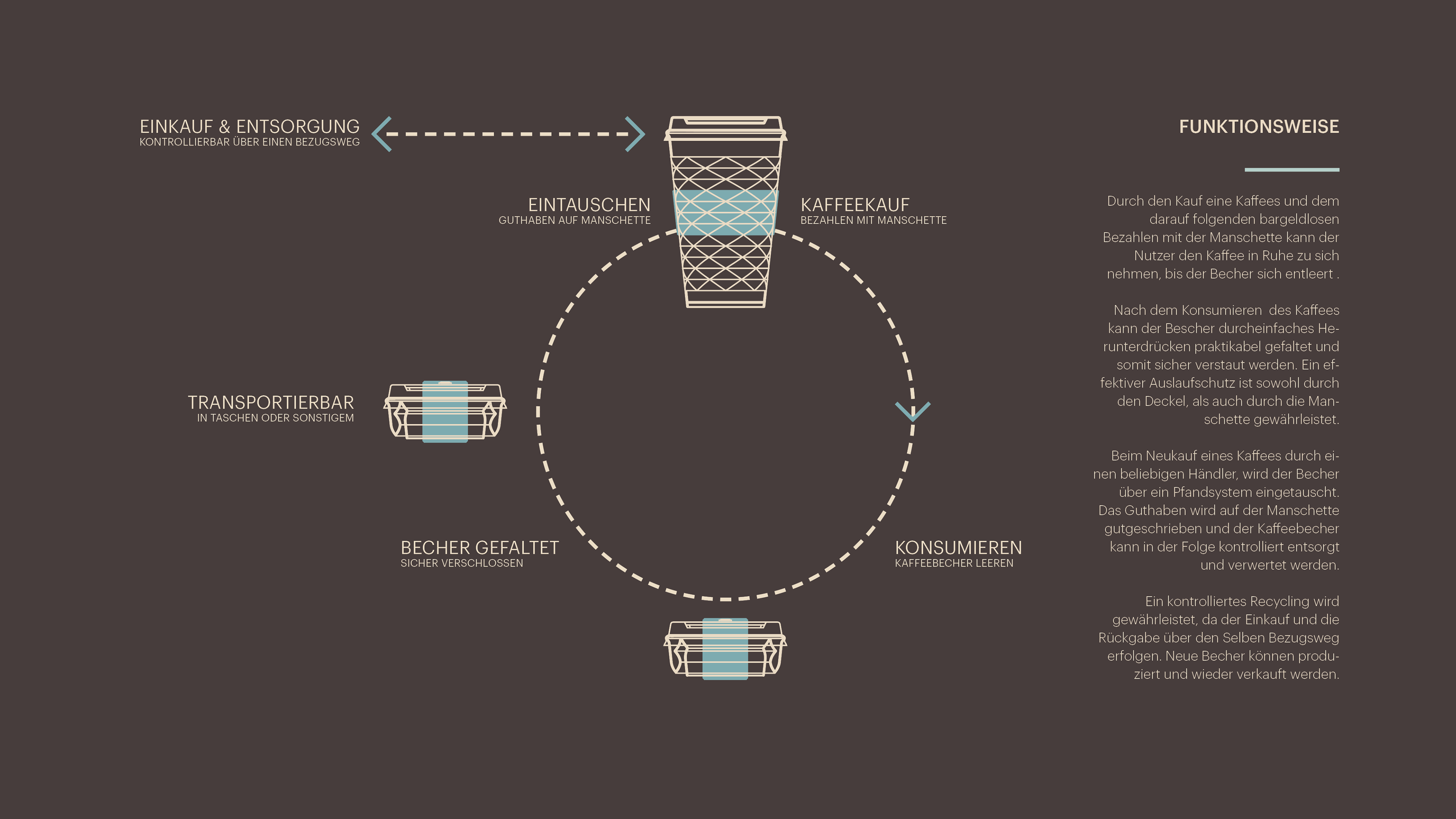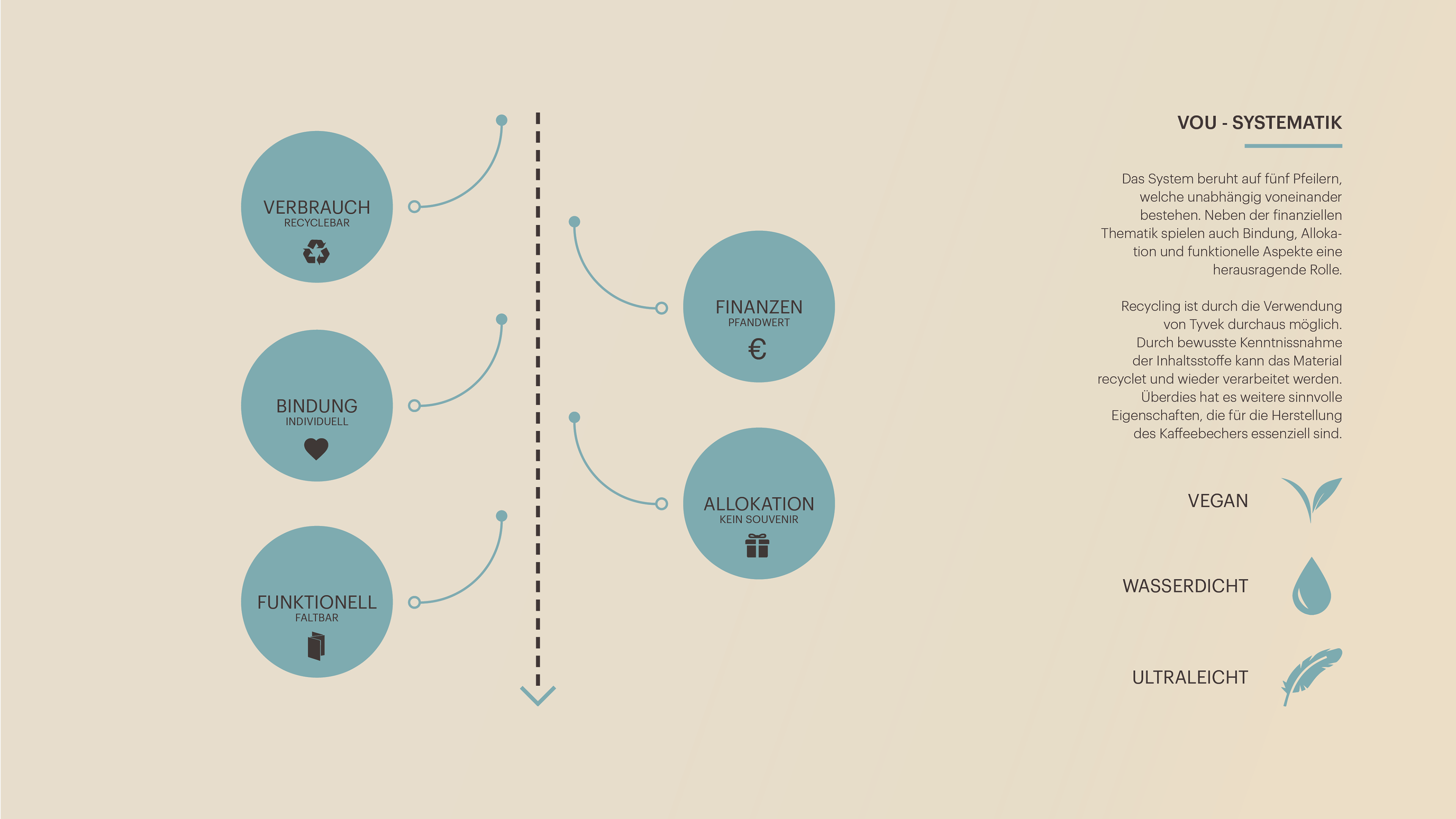 The folded mug consists of three fundamental parameters, that independently have their own significance. 
Therefor the cap is used as the branding base of the purchaser, for not restricting their competitiveness. Moreover the folding mechanism acts as an insulating structure and protects the coffee from cooling dow

n. By rotating the locking cap, the coffee mug can be safeguarded from leaking. Thus the transport of the cup is clean and uncomplicated.
Der Faltbecher besteht aus drei grundlegenden Parametern, die für sich selbst eine eigene Aussagekraft besitzen. Der Deckel ist hierbei als Brandinggrundlage der Verkaufsstätten angedacht, um deren Werbewert zu steigern. Der Faltmechanismus dient überdies als isolierende Struktur um den Kaffee vor dem Auskühlen zu bewahren. Durch Rotation des Verschlusskappe kann der Kaffeebecher vor dem Auslaufen geschützt werden. Hierdurch gestaltet sich die Mitnahme des Coffeecups für den User sauber und unkompliziert.