Ziel war es unter dem Leitthema "Hybride" einen innovativen Fußballschuh der nächsten Generation zu designen, der über alle Aspekte verfügen sollte, die für ein modernes Fußballspiel von Bedeutung sind. Durch sein individuelles und reduziertes Design passt er sich jedem Spieler bestens an.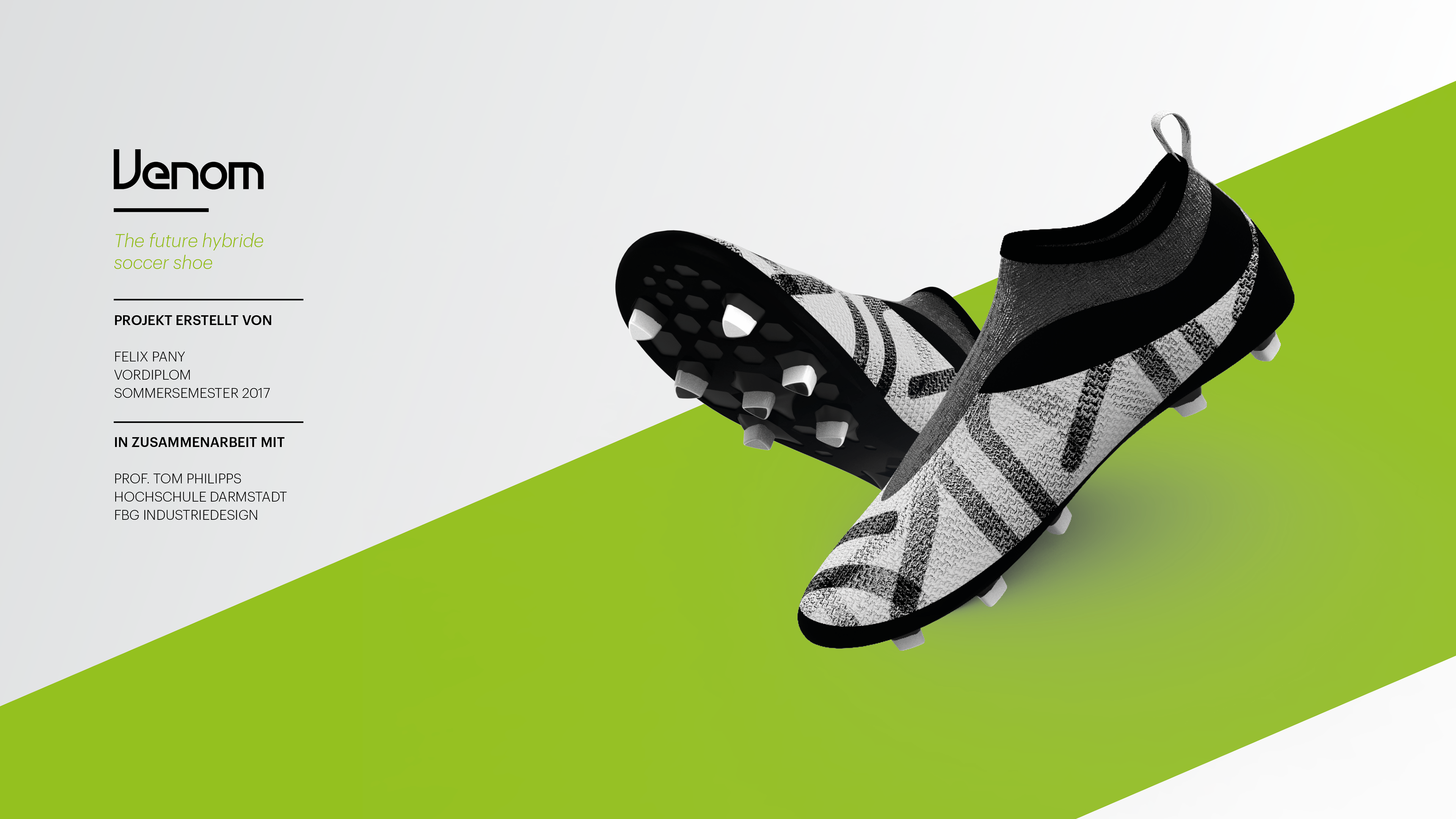 Motivation & FUNCTIONALITY
The aim was to design next-generation soccer shoe under the banner of "hybrid innovation", with all the special aspects of a modern football game. By its individual and reduced design, it adapts perfectly to every player.
The hybrid football boot should have changeable soles for every possible surface. This would be an indoor floor, a hardwood floor (ash), an artificial turf, as well as normal lawn. The stocking should remain perfectly adapted on all surfaces. The individual design of the upper and sole (with optimized traction, lug arrangement and materiality) plays an essential role. In addition, it should be possible to change the configuration of the shoe easily for its ease of use. The design focuses on the combination of a stable outer shell and modulary changeable shoe soles. 
Der hybride Fußballschuh soll über wechselbare Sohlen für alle möglichen Untergründe verfügen. Dies wäre sowohl ein Hallenboden, ein Hartplatzboden (Asche), ein Kunstrasen, als auch normaler Rasen, oder tieferes Geläuf. Ein perfekt sitzender Strumpf soll die Stabilität des Fußes auf allen Untergründen gewährleisten. Hierbei spielt d
ie individuelle Gestaltung von 
Obermaterial und Sohle (mit optimierter Traktion, Stollenanordnung und
Materialität) eine wesentliche Rolle. 
Zudem soll der Schuhs zwecks Benutzerfreundlichkeit extrem 
einfach zu konfigurieren sein. Eine Kombination aus stabiler Außenhülle und modular-veränderbarer Schuhsohle stand beim Entwurf im Mittelpunkt.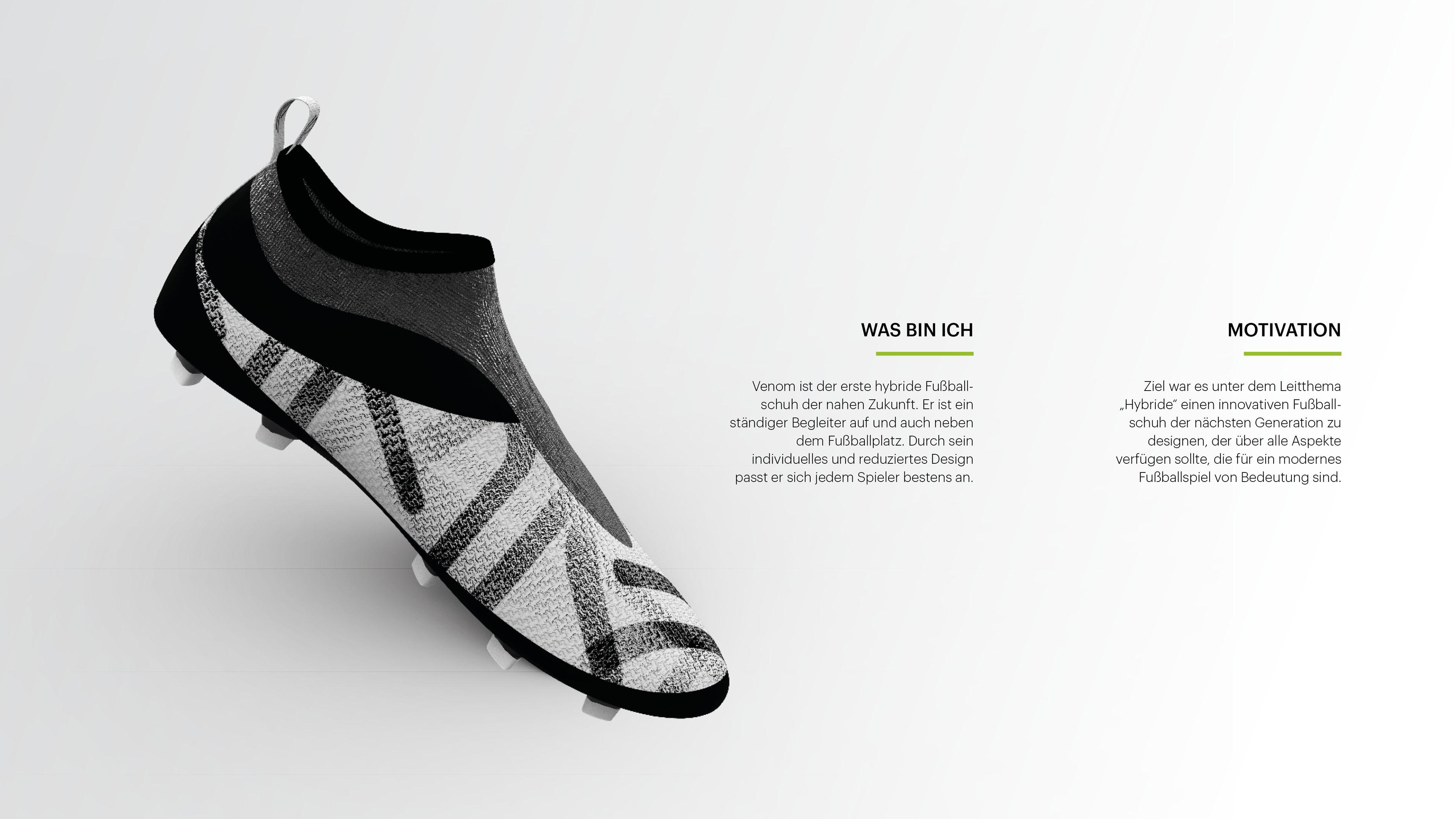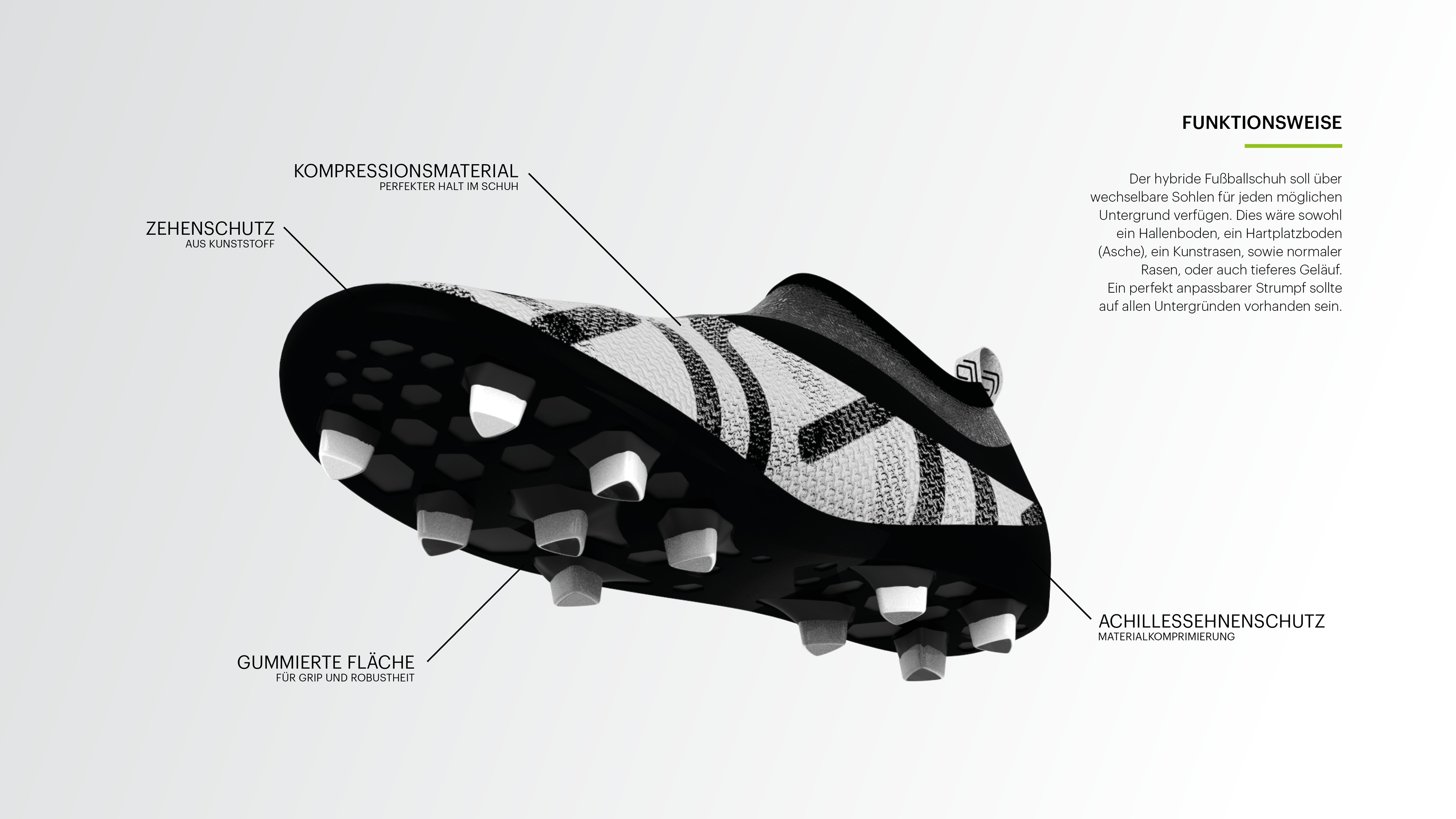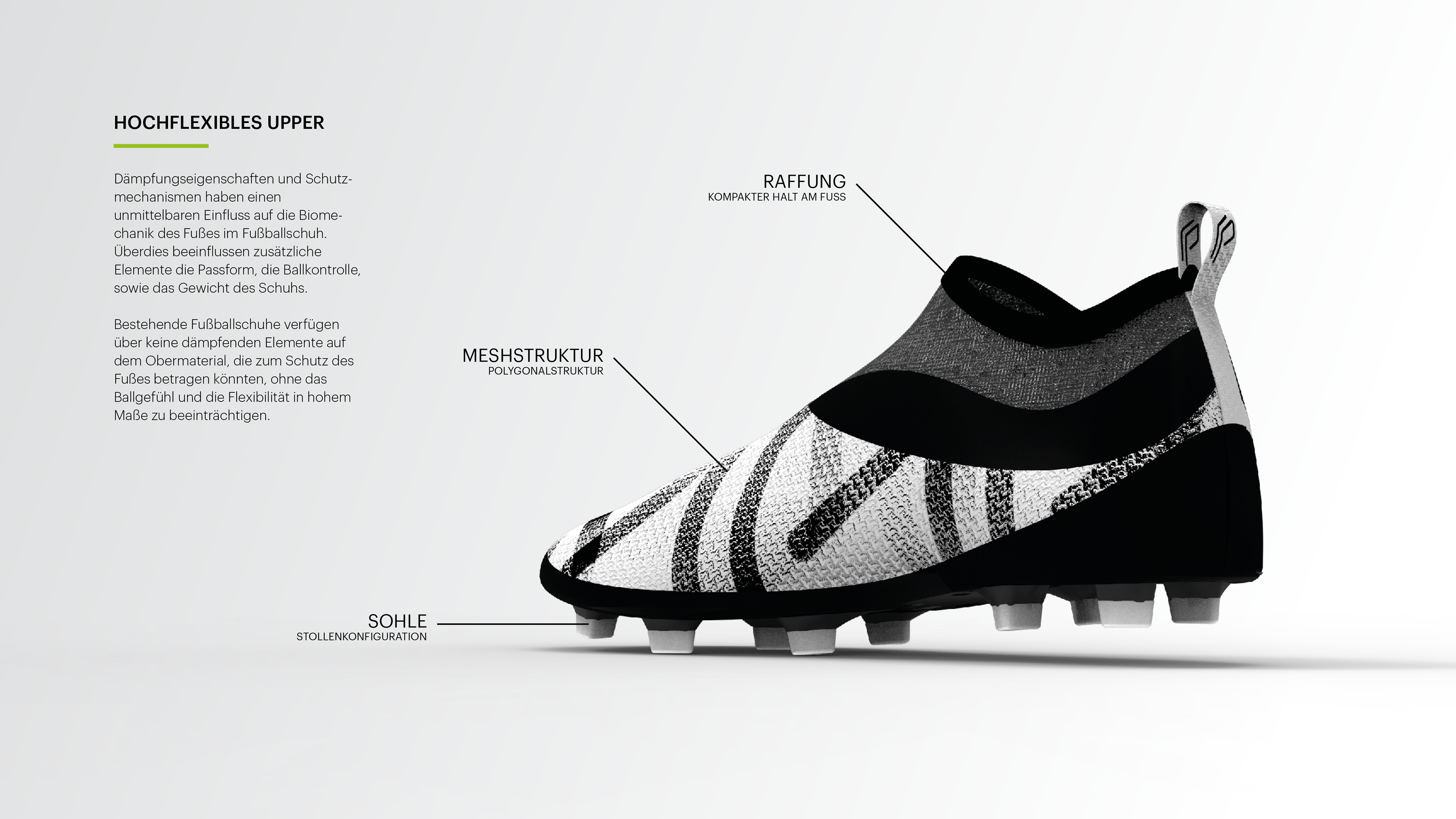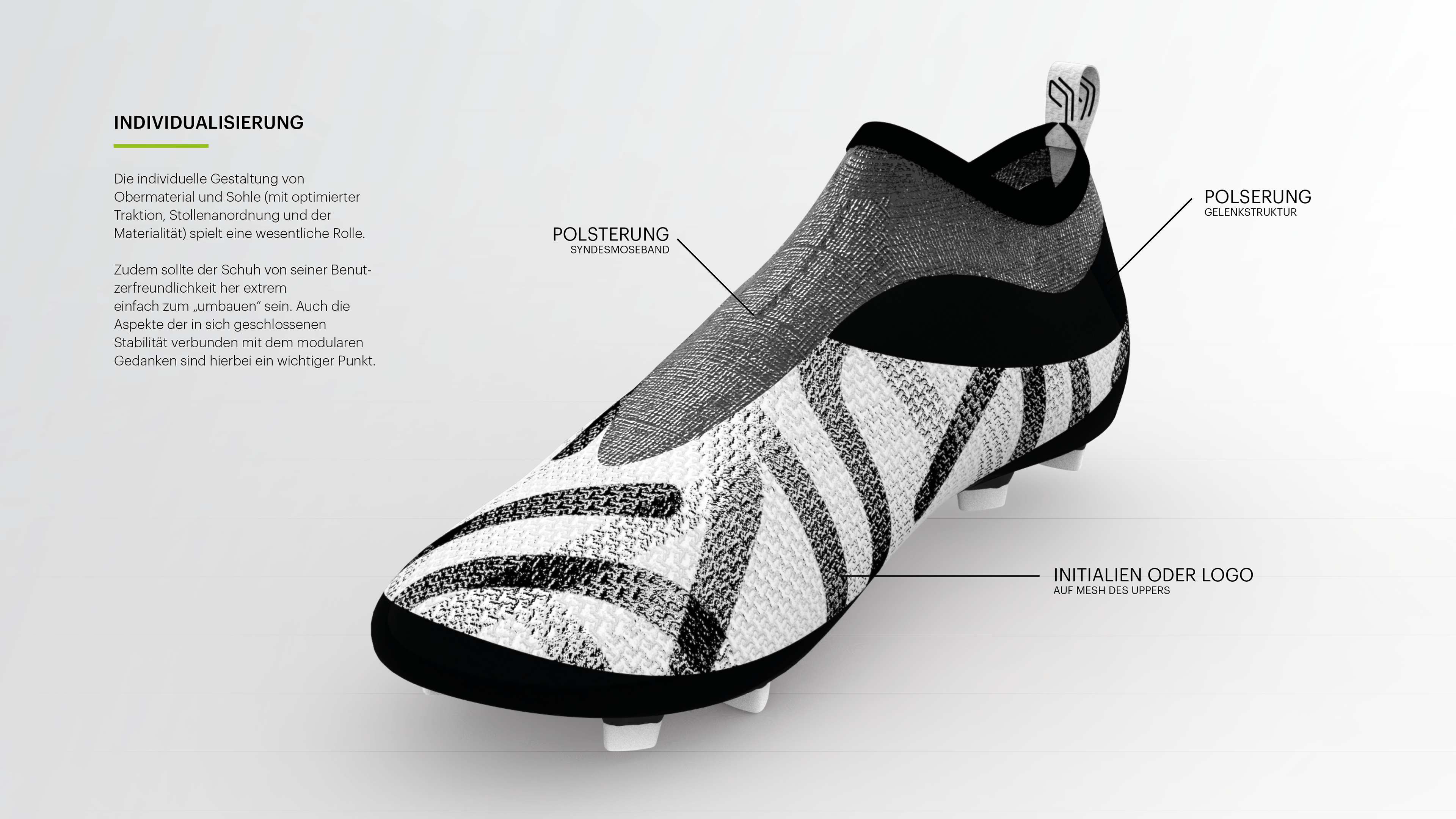 The football boot consists of different layers which have its own function and are sewn together to ensure the best possible protection for the football player. The individual layers can be configured with special properties as desired. All these options ensure a better adaptation to the player. The sole consists of a perforated grid structure, which allows a wide variety of sole configurations to ensure optimal grip on any surface.​​​​​​​ Depending on the type of player and the circumstances of the terrain, the player prepares his shoe individually to finally have an advantage over his opponent due to the best possible adaption.
Der Fußballschuh besteht aus verschiedenen in sich vernähten Layern, denen jeweils eine eigene Funktion zugeordnet wurde, um dem Spieler bestmöglichen Schutz zu gewährleisten. Die einzelnen Schichten können je nach Wunsch mit speziellen Eigenschaften konfiguriert werden. All diese verschiedenen Optionen sorgen für eine bessere Anpassung an den Spieler. Die Sohle besteht aus einer Lochgitterstruktur, welche unterschiedlichste Sohlenkonfigurationen zulässt, um auf jedem Untergrund den optimalen Halt gewährleisten zu können. Der Spieler stellt folglich seinen Schuh je nach Spielertyp und Untergrundgegebenheiten individuell zusammen, um durch bestmögliche Adaption letztlich einen Vorteil gegenüber dem Gegenspieler zu haben.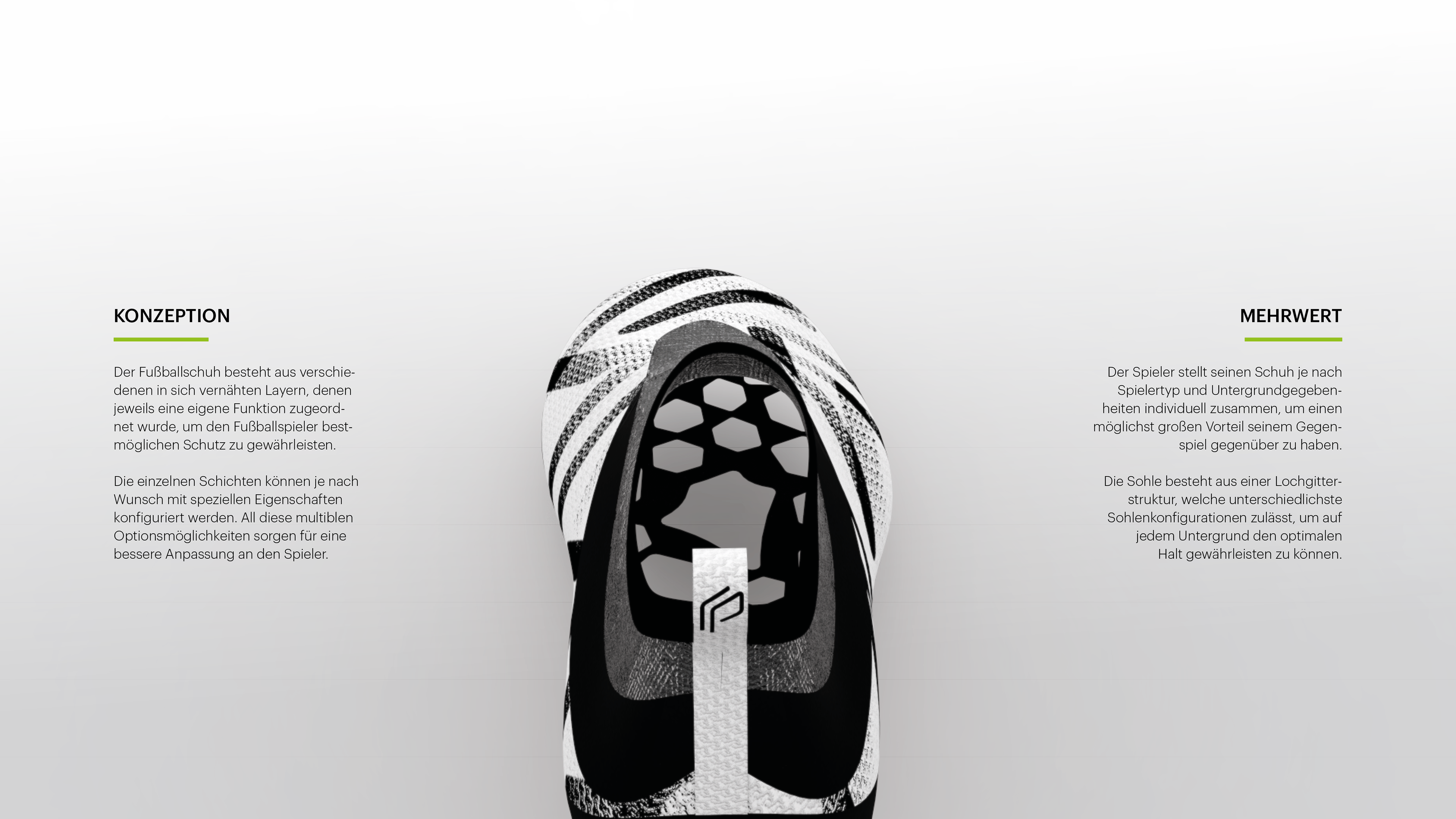 In order to be able to provide perfect ball control, a plane and flexible triangular structure was preferred. The compression material ensures the perfect hold of the foot in the shoe and significantly protects its band structure in risky duels. The surface pattern consists of a triangular structure that is flexible in all directions. Additional damping elements can be attached to the respective problem areas i required.
Um eine perfekte Ballkontrolle gewehrleisten zu können, wurde hierbei eine plane und flexible trianguläre Struktur bevorzugt. Das Kompressionsmaterial sorgt für den perfekten Halt des Fußes im Schuh und schützt wesentlich dessen Bandstruktur bei riskanten Zweikämpfen. Das Oberflächenmuster ist hierbei in alle Richtungen flexibel. Dämpfungselemente können bei Bedarf an den jeweiligen Problemzonen angebracht werden.