Ziel war es im Rahmen eines technischen Entwurfes unter dem Leitthema "Schneebesen" eine innovative Küchenhilfe der nächsten Generation zu designen, welche über alle Komponenten verfügen sollte, die für ein effektives Aufschäumen von Flüssigkeiten von relevanter Bedeutung sind. Durch das reduzierte Design und seine hoch technischen Komponenten fügt er sich als skulpturales Objekt Bestens in ein Smart Home ein.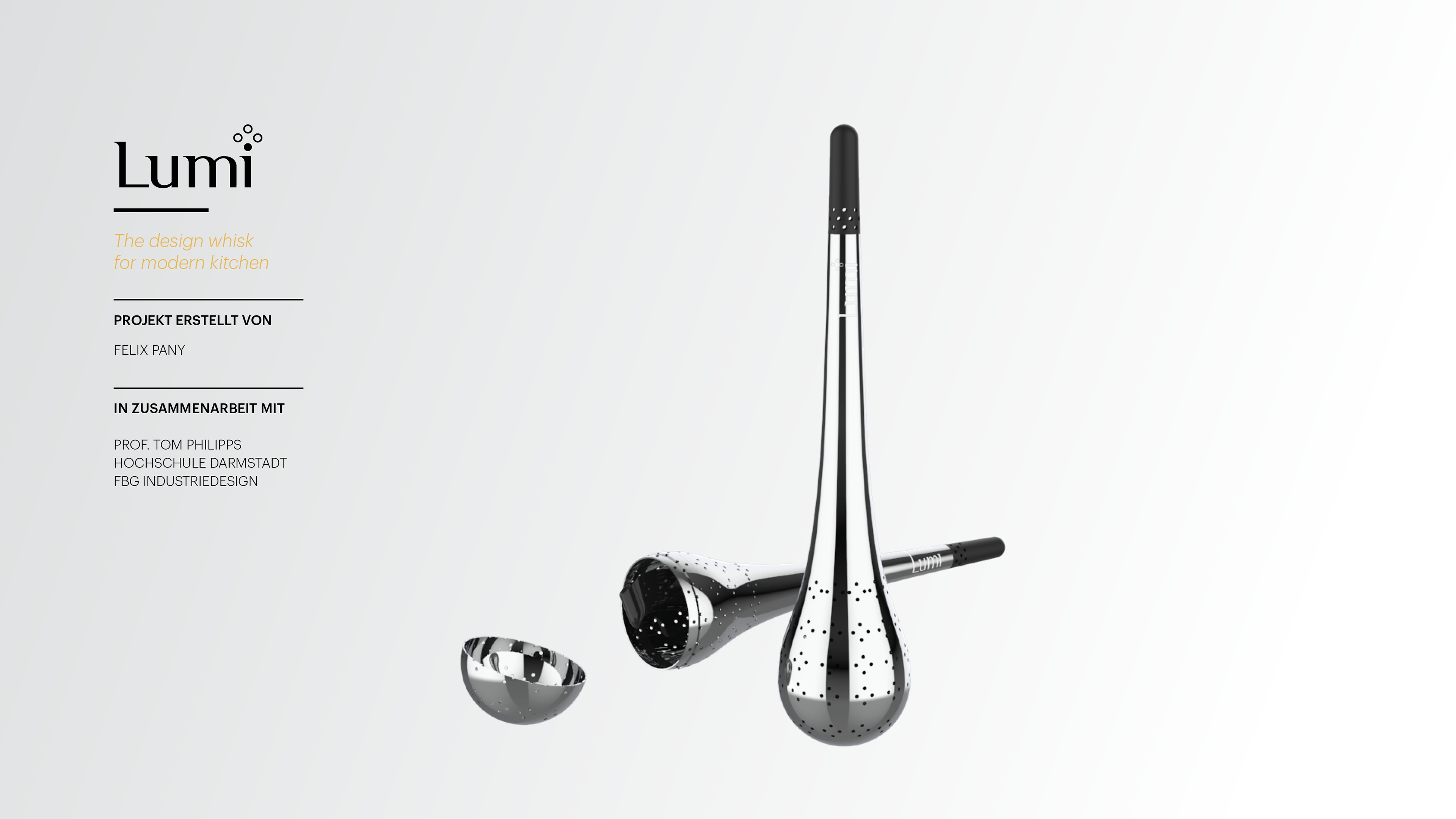 KONZEPTION & STABILIZATION
The goal was in the context of a technical design with the guiding theme "Whisk" to create an innovative kitchen help of the next generation, which should have all relevant components for effective foaming of liquids. 

The Lumi was designed for an easy way to ensure cleaning without risk. Injuries can be excluded. Cleansing is possible, if you remove the lower shell of the whisk, which is connected by some nubs at the hole structure to the bell. Due to the weight inside the bottom of the lower shell, the whisk has a lower center of gravity. Thereby the Lumi is vertically stabilized. During the foaming process, the user can pursue multiple activities in the kitchen simultaneously. This guarantees an effective working environment during any cooking process.
Der Lumi wurde so konzipiert, dass die Anwendung und Reinigung des Geräts sowohl einfach, als auch risikofrei 
erfolgen kann. Verletzungen können ausgeschlossen werden. Eine Reinigung ist durch die reine Abnahme der Unterschale des Quirls möglich. Diese ist über Noppen an der Lochstruktur mit der Glocke verbunden. D

urch das Gewicht im Inneren der 

Unterschale besitzt der Schneebesen einen niederen

Schwerpunkt und 

wird in der Folge vertikal stabilisiert. 

Der Nutzer kann sich während des

Aufschäumvorgangs anderen Tätigkeiten in der Küche widmen. Hierdurch wird 

ein effektives

Arbeiten während eines 

Kochvorgangs garantiert.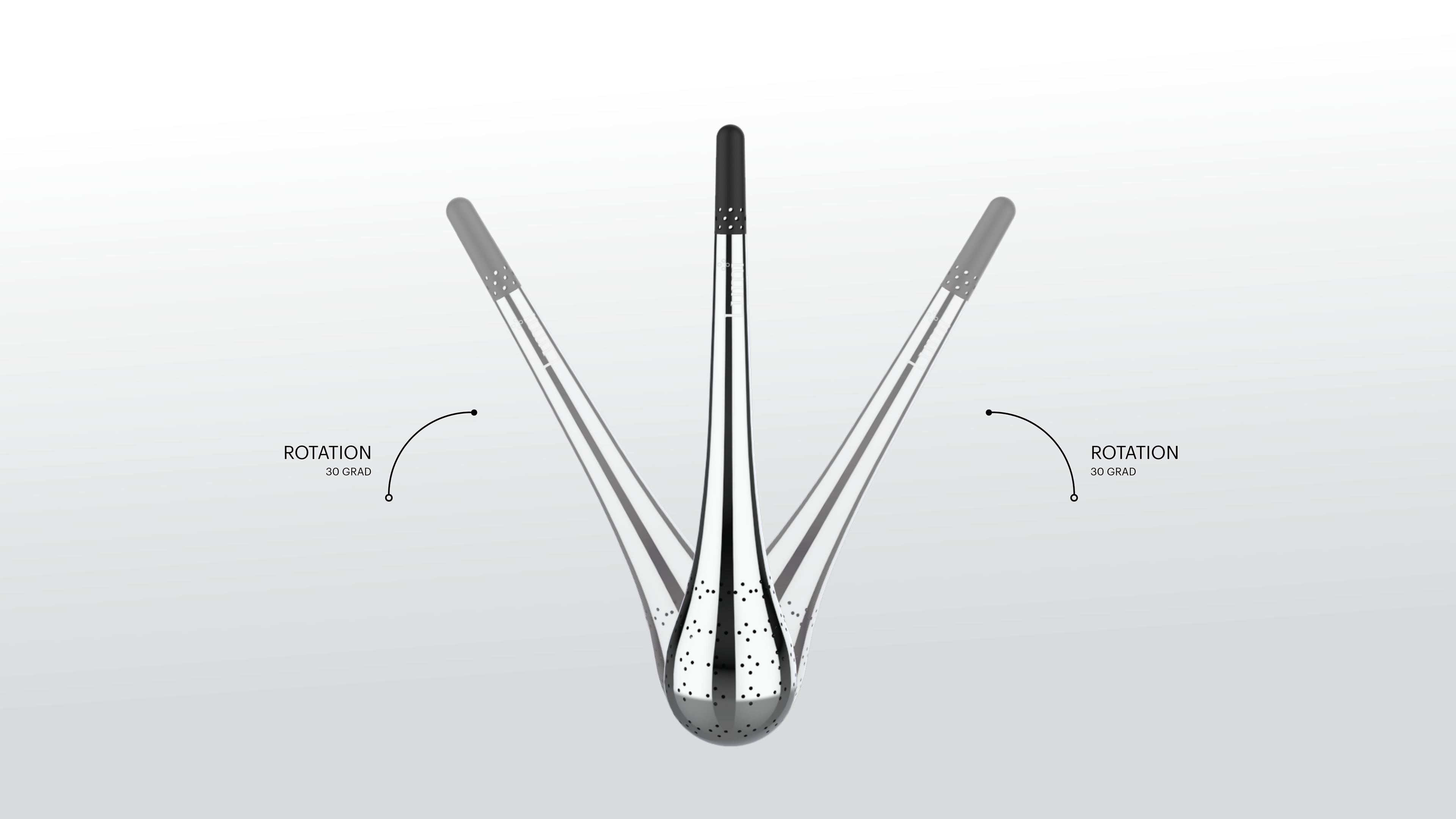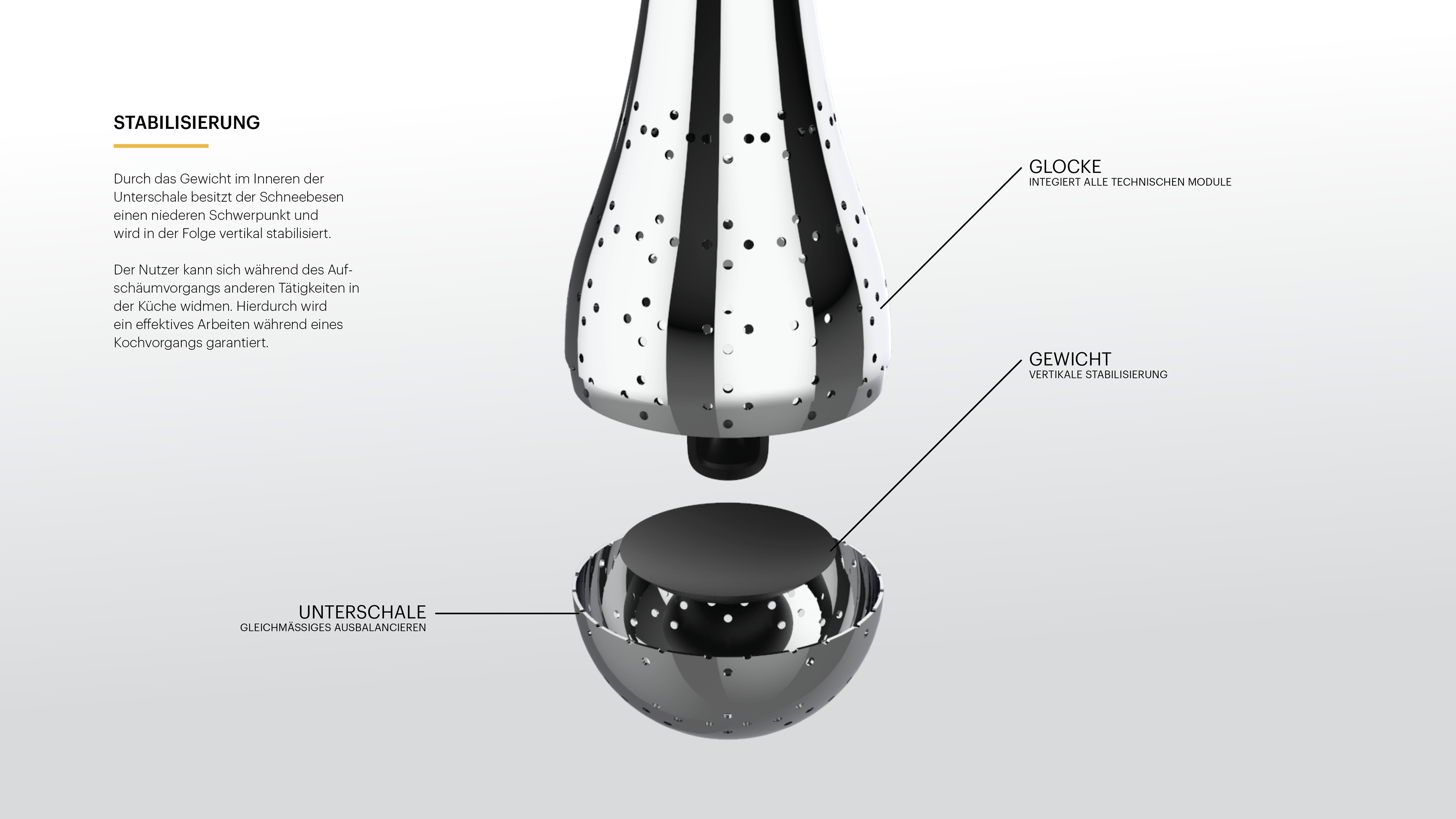 ADDED VALUE & FUNCIONALITY
The added value of the innovative whisk consists of two central elements. The integration into the spatial environment of a modern living stands in the foreground. On the other hand, the Lumi has individual modules that enable an effective, autonomous foaming process without the control of a user. The whisk is placed in a container with liquid. Using the On/Off Mechanism you can activate the Lumi. From this point on, the whisk works autonomously to foam the liquid.

By the rotation of the impeller the air flows over the Air feeder and the resting 

aerodynamic diffuser in the air duct. As a result, the air will be effectively bundled from the air catcher. Beyond the rotating Aerostick, the air will be distributed in a 360° angle. With this principle the air can be lifted up in an effective way at the same time.
Der Mehrwert des innovativen Schneebesens besteht aus zwei zentralen Elementen. Die Integration in das räumliche Umfeld eines modernen Wohnens steht hierbei im Vordergrund. Andererseits verfügt er über einzelne Module, die ein effektives, autonomes Aufschäumen ermöglichen, durch welche der Nutzer effektiv entlastet wird. Der Schneebesen wird in ein Behältnis mit Flüssigkeit gestellt. Über den On/Off Mechanismus wird der Lumi aktiviert. Von diesem Zeitpunkt an arbeitet der Schneebesen selbstständig, bis die Flüssigkeit aufgeschäumt wurde. 
Durch die Rotation des Gebläserades (Turbine) strömt die Luft über den 
Luftspeiser und den stillstehenden 
aerodynamischen Diffusor in 
den Luftkanal. 
In der Folge wird die Luft effektiv vom 
Air-Catcher aufgefangen und gebündelt.Über den rotierenden Aerostick wird 
die Luft rotierend und sich verstärkend  im 360° Winkel verteilt. 
Somit kann effektiv und gleichmäßig 
Luft untergehoben werden.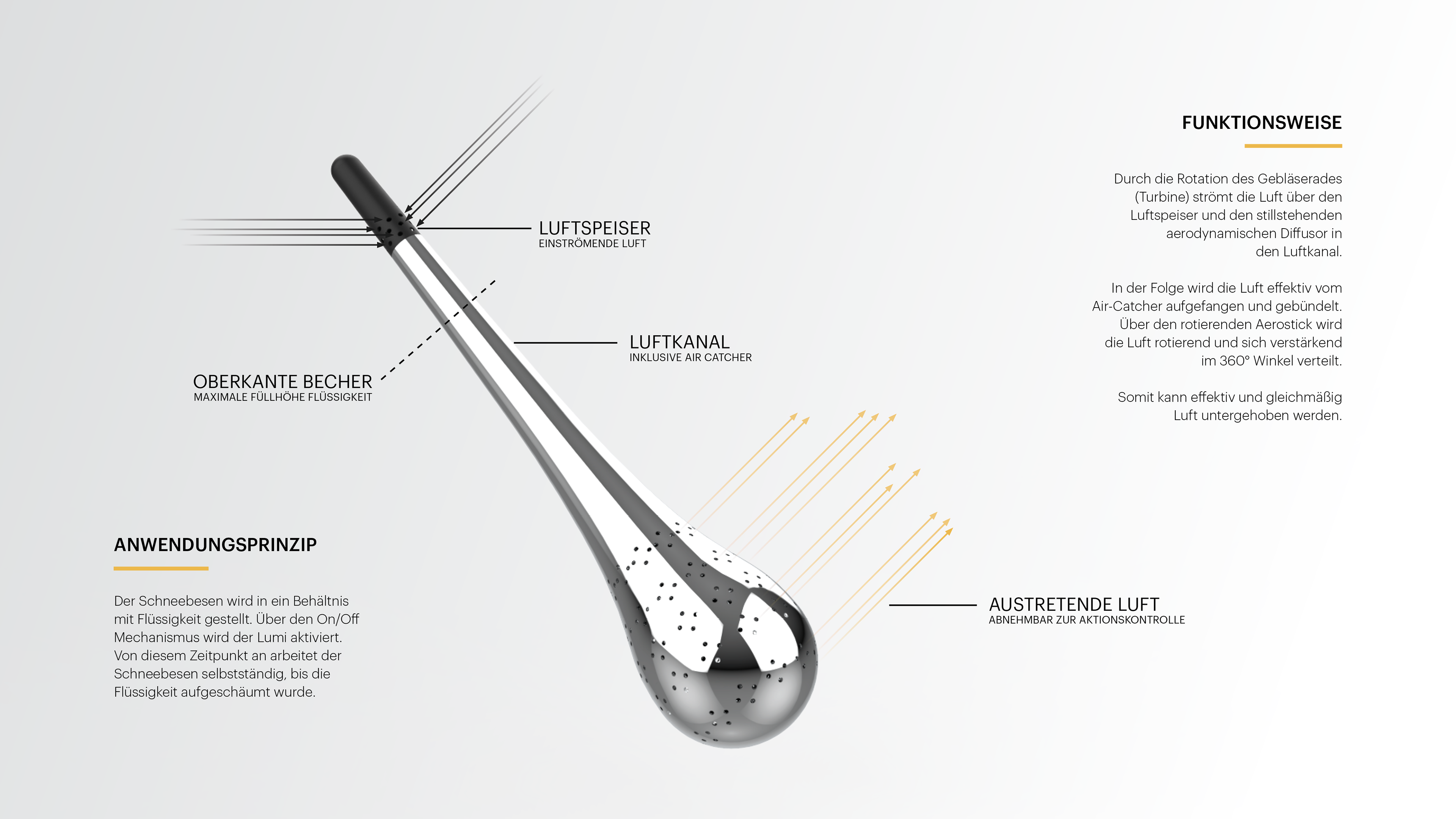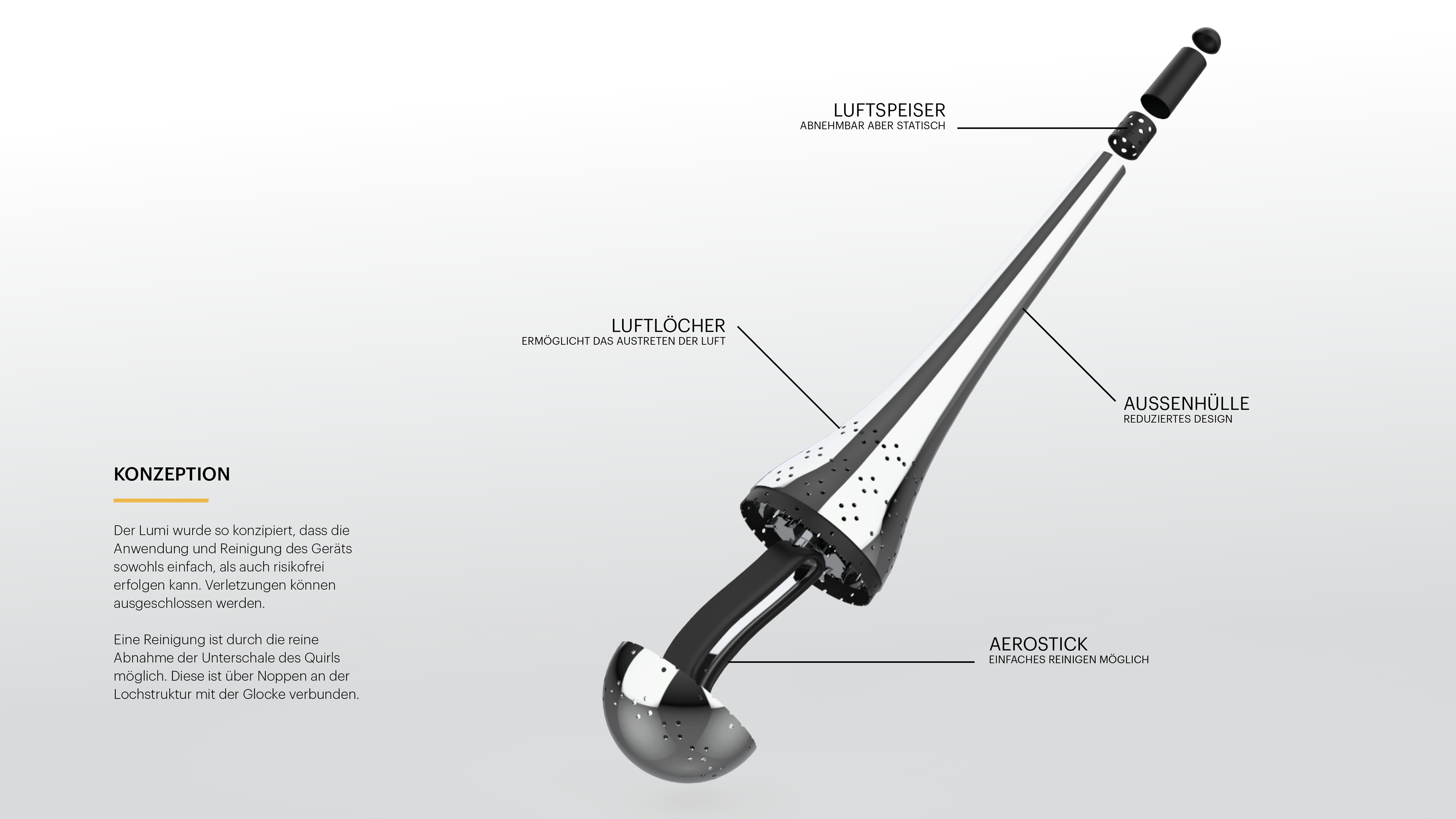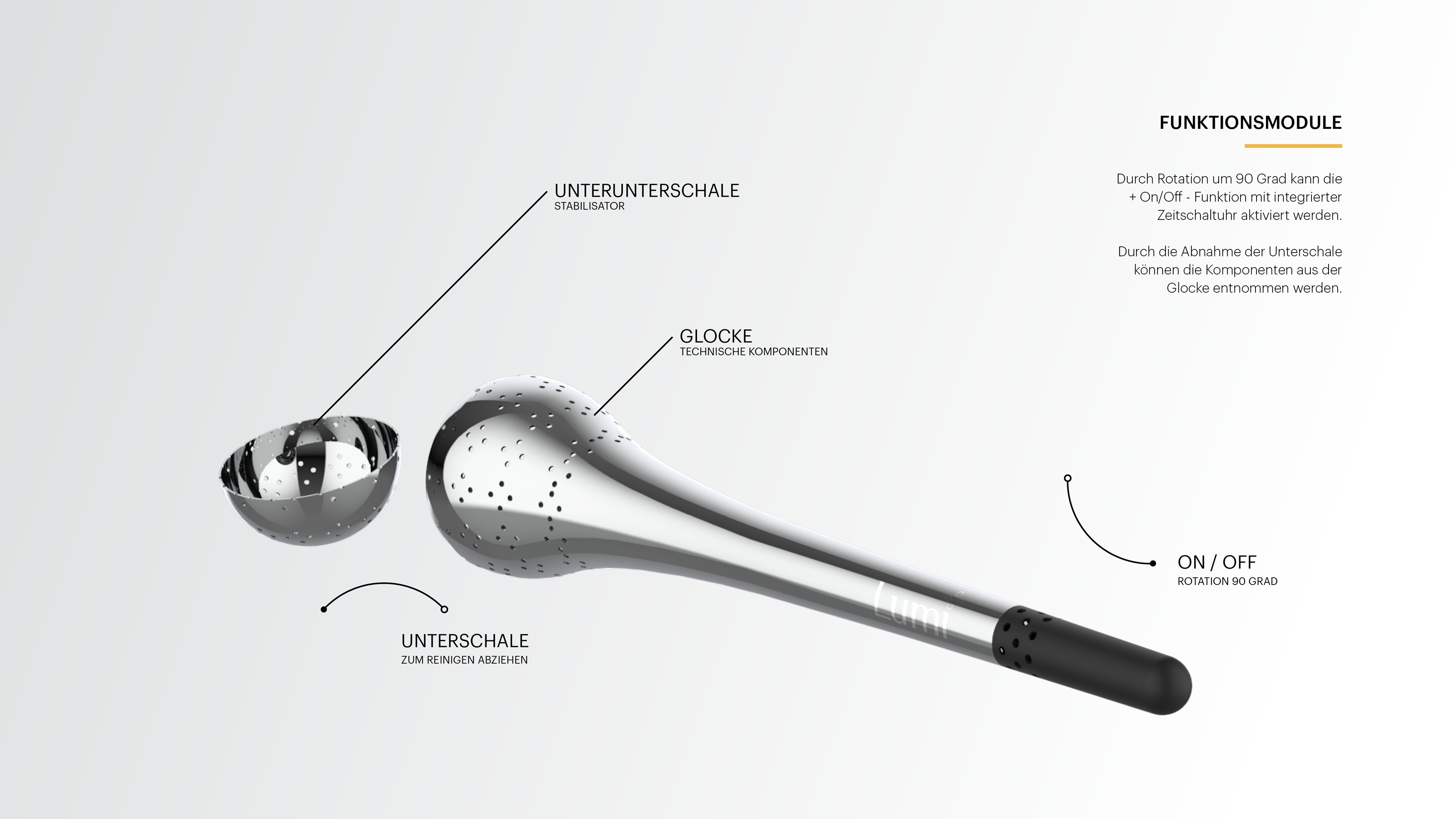 The Lumi consists of an outer shell, which is designed in a reduced and sculptural way. Beyond the Lumi contains a 6V battery, a turbine, a gearbox and an aerostick in the form of a fork for effective distribution of air. All components are separately removable which enables ease of cleaning. The integrated 6V Battery provides the necessary energy for the Engine, which is positioned below the engine and provides the rotation of the turbine. Because the turbine has a higher rotational speed than the Aerostick needs, a transmission gear is installed between these two components for the reducing oft he turn. The air is sucked from the upper air intakes and along the air ducts promoted over the turbine itself to the transmission module, by using the turbine rotation. The air glides along the wall with effective speed into the Aerostick, where it will be distributed and ejected.
Der Lumi besteht aus einer Außenhülle, die durch sein reduziertes, skulpturales Design besticht. Überdies befinden sich im Lumi sowohl eine 6V Batterie, eine Turbine, ein Getriebe und ein Aerostick in Form einer Gabel zur effektiven Verteilung der Luft. Alle Komponenten sind separat Herausnehmbar. 

Die im Inneren des Lumi integrierte 6V Batterie liefert die nötige Energie für den Motor, der darunter positioniert für die Rotation der Turbine sorgt. 

Da die Turbine eine höhere Rotationsgeschwindigkeit als der Aerostick benötigt, wurde zwischen diese beiden Komponenten ein Übersetzungsgetriebe verbaut, was die Umdrehung verringert. Die Luft wird mithilfe der Turbinenrotation aus den oberen Lufteinlässen angesaugt und entlang der Luftkanalstege, über die Turbine selbst zum Getriebemodul gefördert. Hier gleitet die Luft entlang der Wandung mit effektiver Geschwindigkeit bis in den Aerostick, wo Sie über die Gabel verteilt und ausgestoßen wird.