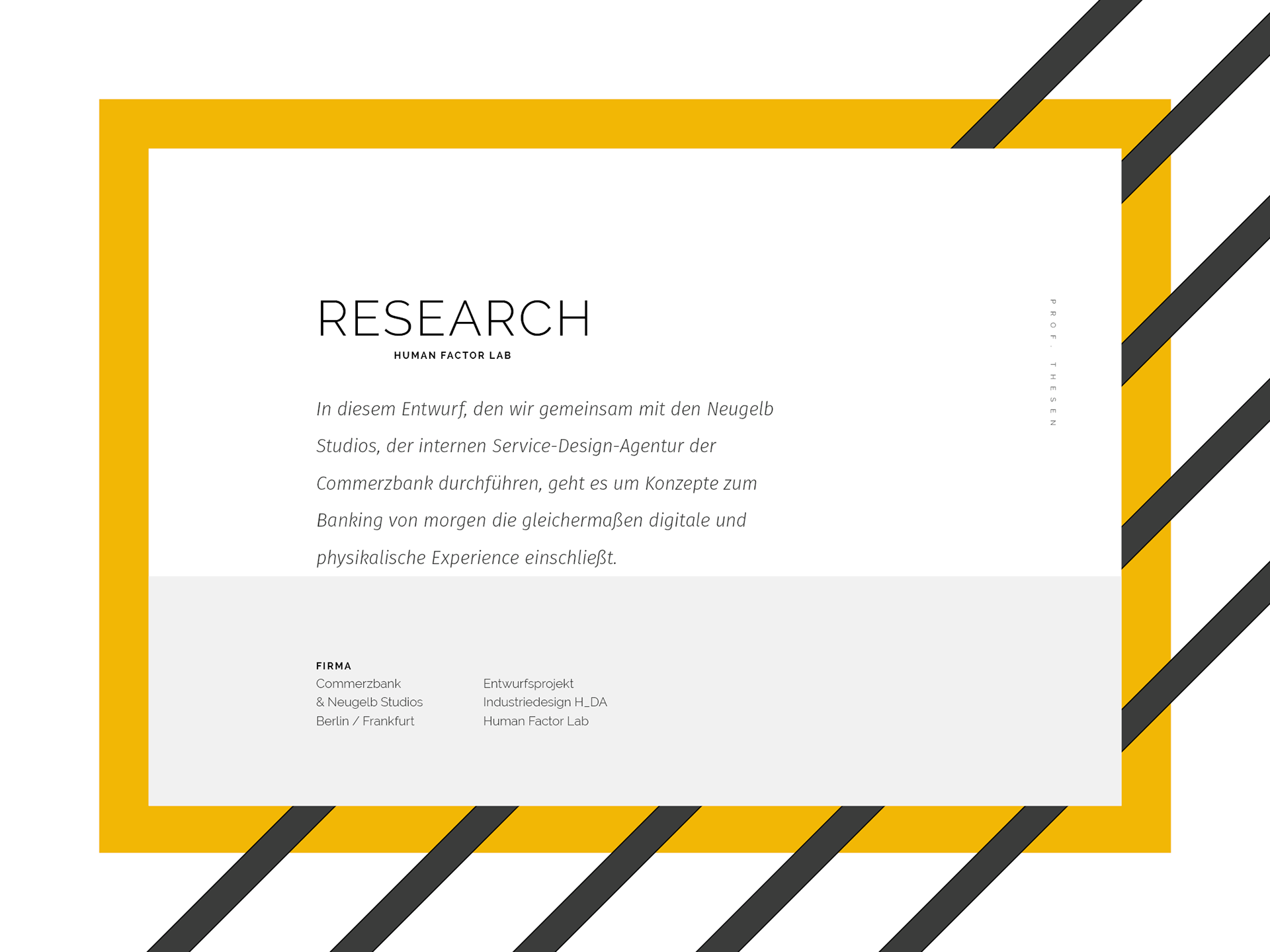 The omnipresent digitalization has radically changed our world in recent years and questioned traditional business models. As a result of freely available information and falling transaction costs, banking in particular has come under enormous pressure: ATMs, automated payment transactions, online banking and AI-controlled investment advice make visiting a bank branch and talking to a bank advisor superfluous for many people. Banks are evolving from being indispensable carriers of know-how into vicarious agents. So what can the banking of the future look like in a digitalized world that will create value for customers and companies alike? This is the question students of the Design Department at Darmstadt University of Applied Sciences are asking themselves in cooperation with Neugelb Studios, the internal service design agency of Commerzbank.​​​​​​​
Die alles durchdringende Digitalisierung hat unsere Welt in den letzten Jahren radikal verändert und tradierte Geschäftsmodelle in Frage gestellt. Infolge frei verfügbarer Informationen und sinkender Transaktionskosten ist insbesondere das Bankwesen unter enormen Druck geraten: Geldautomaten, automatisierter Zahlungsverkehr, Online-Banking sowie AI-gesteuerte Anlageberatung machen für viele Menschen den Besuch einer Bankfiliale und das Gespräch mit einem Bankberater überflüssig. Banken entwicklen sich vom unabdingbaren Träger von Know-how zum Erfüllungsgehilfen.Wie kann also das Banking der Zukunft in einer digitalisierten Welt aussehen, das für Kunden und Unternehmen gleichermaßen wertstiftend ist? Mit dieser Frage Beschäftigten sich Studierende des Fachbereichs Gestaltung der Hochschule Darmstadt in einer Kooperation mit den Neugelb Studios, der internen Service-Design-Agentur der Commerzbank.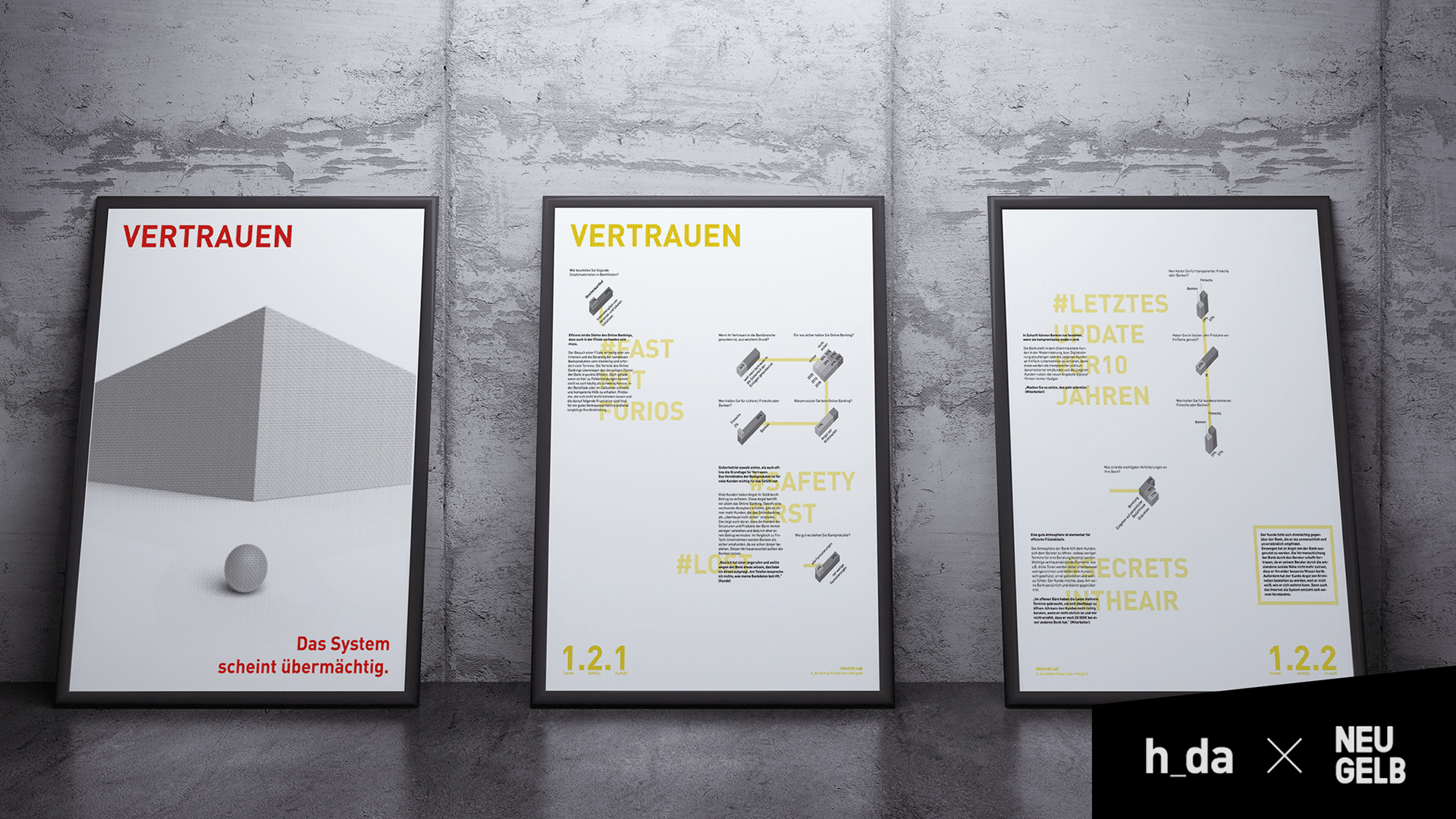 How does the banking of the future look like, that is mores-setting for both, consumers and companies? Cashpoints, automatized payments, online-banking and investment advices by artificial intelligences are the reasons why many customers obviate the need for conversations with bank consultants. Banks develope from indispensable to performing agents. This design, that is accomplished in cooperation with Neugelb Studios, the internal design agency of Commerzbank, deals with 

concepts for the banking of tomorrow that include both a digital and a physical experience. Particular attention is paid to the added value of the traditional branch and to the question of how analogue design and digital services can complement each other in sustainable experiences. The design is taking place in context of the Human Factor Lab, which focuses on human needs.
Wie kann das Banking der Zukunft in einer digitalisierten Welt aussehen, das für Kunden und Unternehmen gleichermaßen Wert stiftend ist? Geldautomaten, automatisierter Zahlungsverkehr, Online-Banking sowie AI-gesteuerte Anlageberatung machen für viele Menschen den Besuch einer Bankfiliale und das Gespräch mit einem Bankberater überflüssig. Banken entwickeln sich vom unabdingbaren Know-How-Träger zum Erfüllungsgehilfen. In diesem Entwurf, der gemeinsam mit den Neugelb Studios, der internen Service-Design-Agentur der Commerzbank durchführt wurde, geht es um Konzepte zum Banking von morgen die gleichermaßen digitale und physikalische Experience einschließt. Ein besonderes Augenmerk liegt hierbei auf dem Mehrwert der klassischen Filiale und der Frage, wie sich hierbei analoges Design und digitale Dienste zu nachhaltigen Erlebnissen ergänzen können. Der Entwurf findet ihm Rahmen des Human Factor Labs statt, das vor allem die Bedürfnisse des Menschen in den Mittelpunkt stellen soll.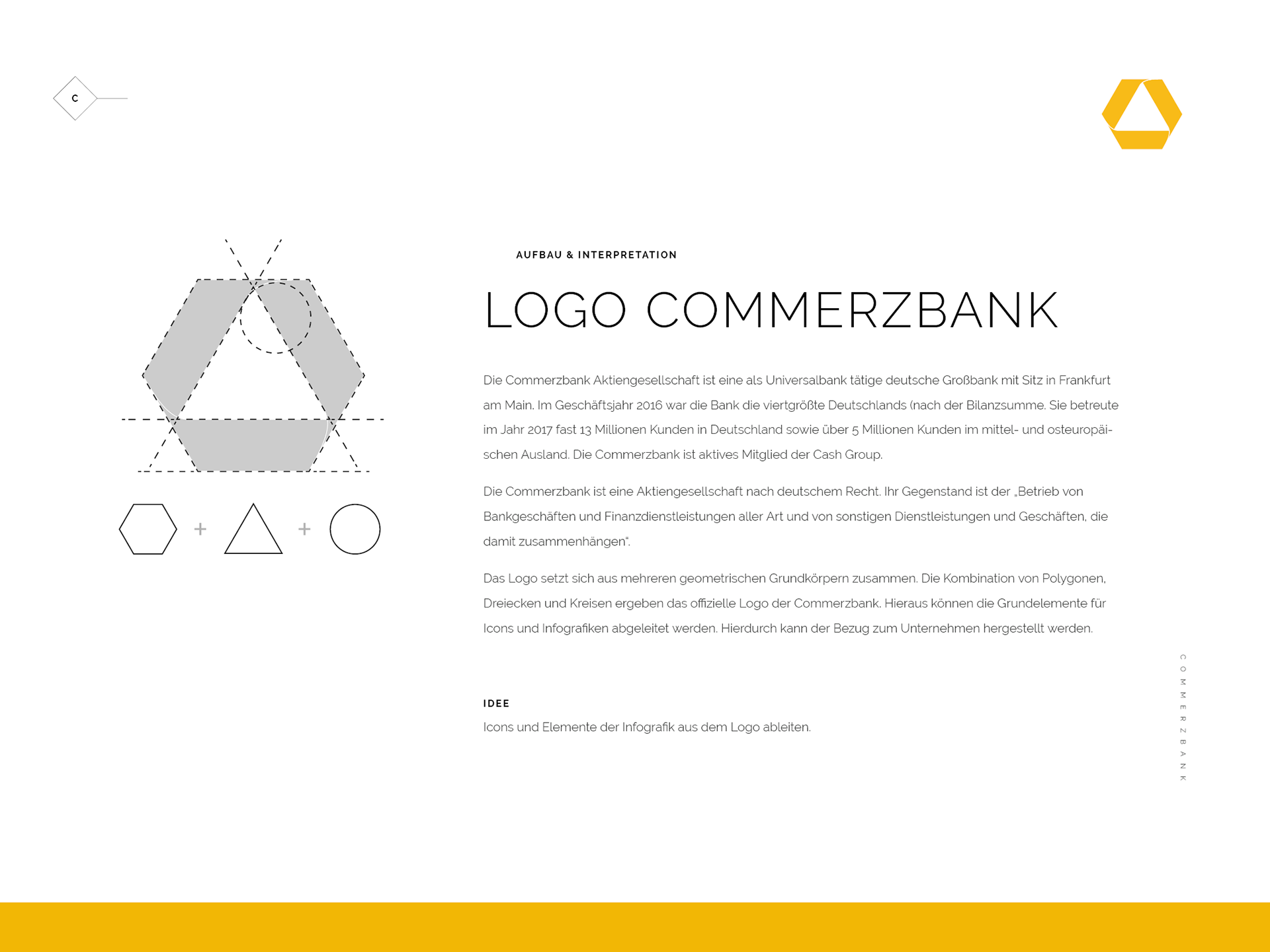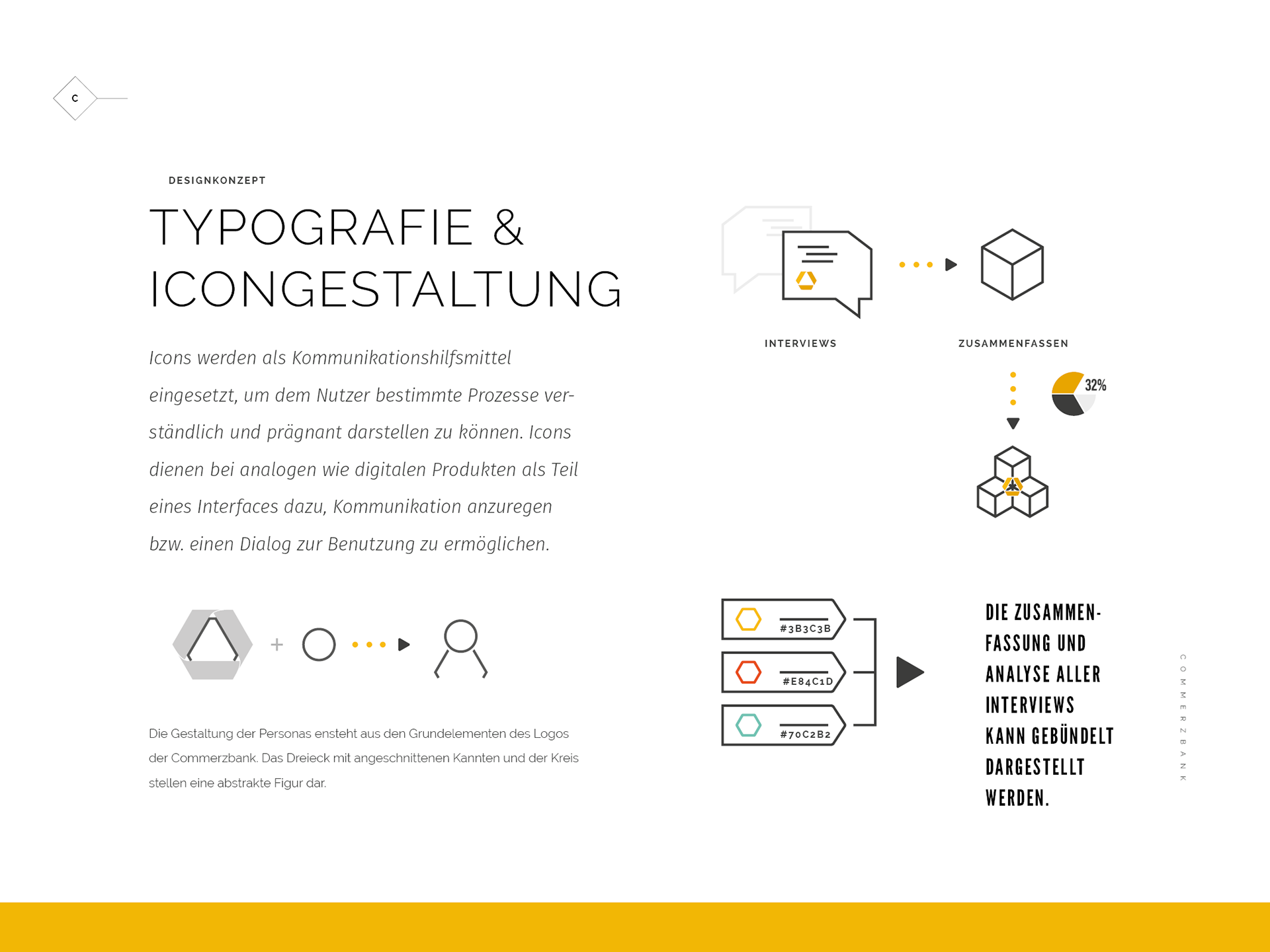 How Can Banking of tomorrow look like?
2 term collaboration between Neugelb studios and Human Factor Lab/Design Faculty of Darmstadt University. Joint research, ideation and usercentered innovation with the aim to innovate the Commerzbank experience of the future and to activate and vitalize the creative resources of Neugelb. Main objectives are joint user research and customer observation to identify significant innovation areas.
Design by Benedikt Schneeberg, Darleen Mittelstaedt, Fabio Sacher, Felicia Burger, Felix Pany, Jiming Yi, Lars Herzog, Rebecca Roell, Sabeth Wiese, Victoria Lemke, Yi-Feng Lin 
Supervision: Prof. Philipp Thesen (Human-System-Interaction), 
Research supervision: Nina Schacht
Das Projekt beruht auf einer zweijährigen Zusammenarbeit zwischen Neugelb Studios und Human Factor Lab / Design Fakultät der Hochschule Darmstadt. Gemeinsame Forschung, Ideenfindung und nutzerorientierte Innovationen werden unter Zuhilfenahme der kreativen Ressourcen von Neugelb dazu genutzt die Commerzbank der Zukunft zu entwickeln. Der Fokus liegt demzufolge auf der gemeinsamen Benutzerforschung und Kundenbeobachtung, um bedeutende Innovationsbereiche zu identifizieren.
Design von Benedikt Schneeberg, Darleen Mittelstädt, Fabio Sacher, Felicia Burger, Felix Pany, Jiming Yi, Lars Herzog, Rebecca Röll, Sabeth Wiese, Victoria Lemke, Yi-Feng Lin 
Betreuung: Prof. Philipp Thesen (Mensch-System-Interaktion), Researche Betreuung: Nina Schacht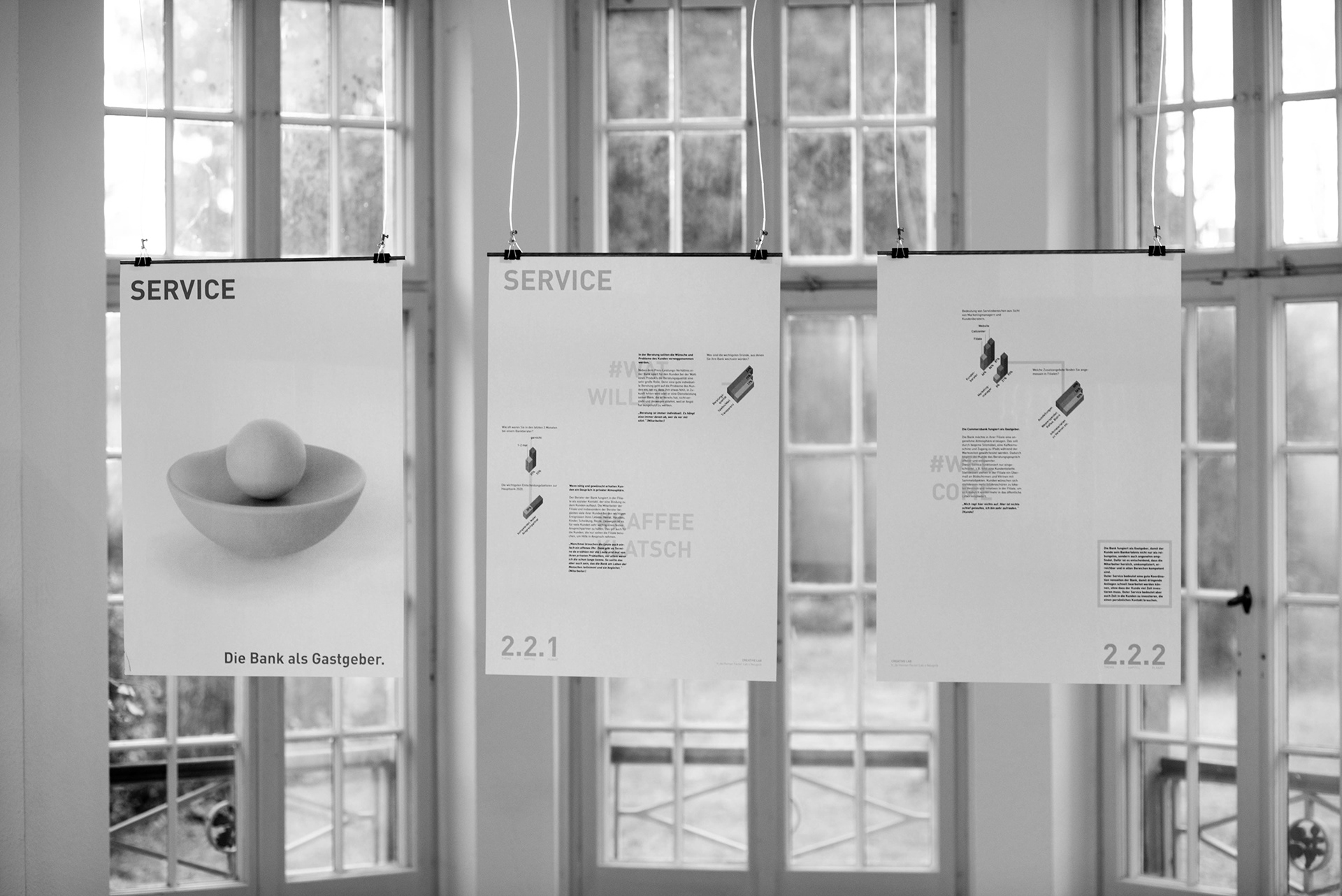 In the first part of the cooperation, the focus was on comprehensive user research at the Commerzbank test branch in Berlin. Based on newly learned interview methods and research techniques, the needs and fears of the affected customers and employees were analyzed. In addition, the results of this qualitative research were supplemented and substantiated by quantitative studies. Banking of the future can only be designed with knowledge of the problems and strengths of the current user experience and internal processes of a bank. This research resulted in 24 posters and a booklet with a focus on human-system interaction, bank services, digitalization and trust.​​​​​​​​​​​​​​​​​​​​​
Im ersten Teil dieses Kurses lag der Fokus auf einem umfassenden User Research in der Commerzbank Testfiliale in Berlin. Auf Grundlage neu erlernter Interviewmethoden und Researchtechniken wurden die Bedürfnisse und Ängste der betroffenen Kunden und Mitarbeiter analysiert. Darüber hinaus wurden die Ergebnisse dieses qualitativen Researchs durch quantitative Studien ergänzt und belegt. Nur mit dem Wissen um Probleme und Stärken der aktuellen User Experience und internen Abläufe einer Bank kann das Banking der Zukunft entworfen werden. Entstanden sind 24 Plakate, die den Reasearch zusammenfassen mit den Themen­schwerpunkten Mensch – System – Interaktion, Service der Bank, Digitalisierung und Vertrauen.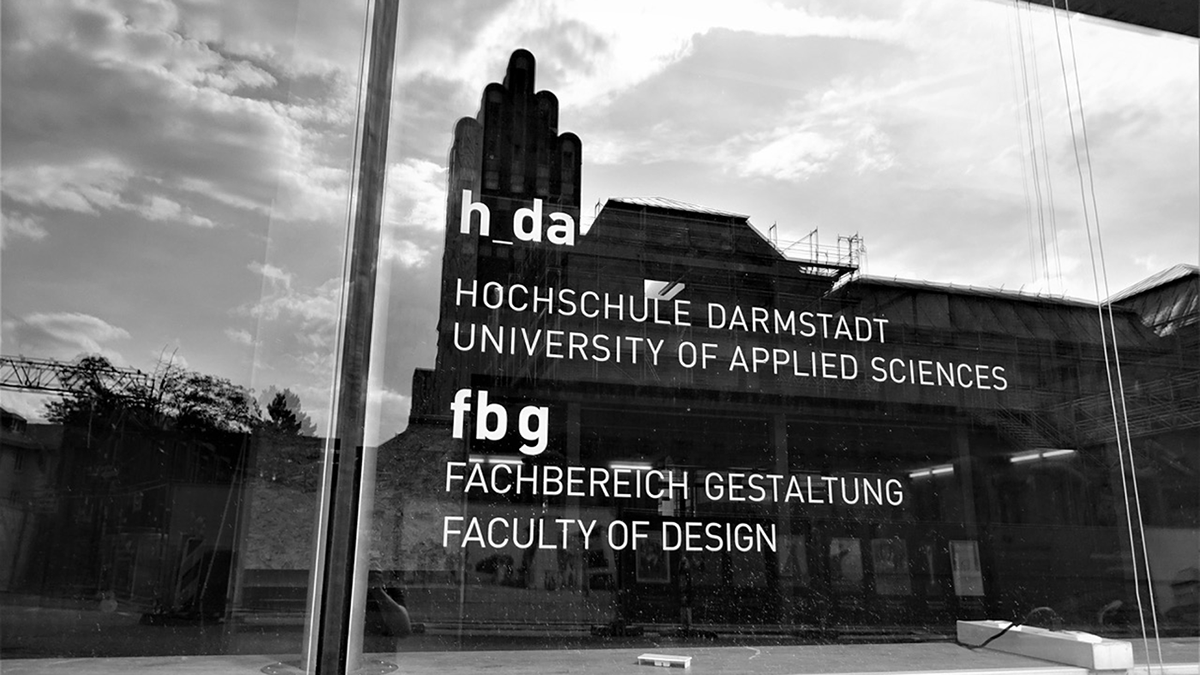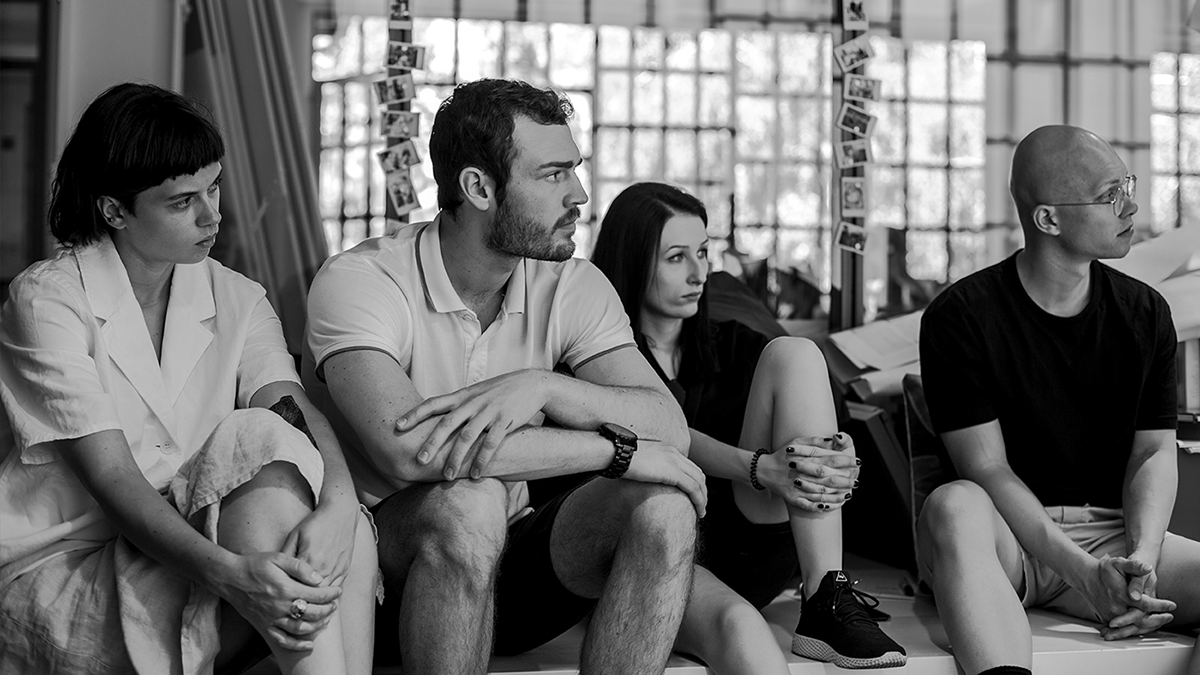 The customer feels helpless towards the bank, which he perceives as inhuman and incomprehensible. That is why he is afraid of being exploited by the bank. The humanization of the bank through the person of the advisor creates trust. Because of the social bond that developed, the customer is sure that the advisor won't advise him against his better knowledge. Moreover, the client is afraid of being robbed by criminals, because he doesn't know how to defend himself. The Internet as a system is also beyond his understanding.
Der Kunde fühlt sich ohnmächtig gegenüber der Bank, die er als unmenschlich und unverständlich empfindet. Deswegen hat er Angst von der Bank ausgenutzt zu werden. Die Vermenschlichung der Bank durch den Berater schafft Vertrauen, da er seinem Berater durch die entstandene soziale Nähe nicht mehr zutraut, dass er ihn wider besseres Wissen berät. Außerdem hat der Kunde Angst von Kriminellen bestohlen zu werden, weil er nicht weiß, wie er sich wehren kann. Denn auch das Internet als System entzieht sich seinem Verständnis.                                                      

"Especia

lly with the younger ones who open an account with me, or want to set up their online banking, I say what they need to look out for. Then I feel like being a mom." 
"Gerade bei den jüngeren, die ein Konto bei mir eröffnen, oder ihr Onlinebanking einrichten möchten, sage ich worauf sie achten müssen. Dann fühle ich mich als Wäre ich Mama."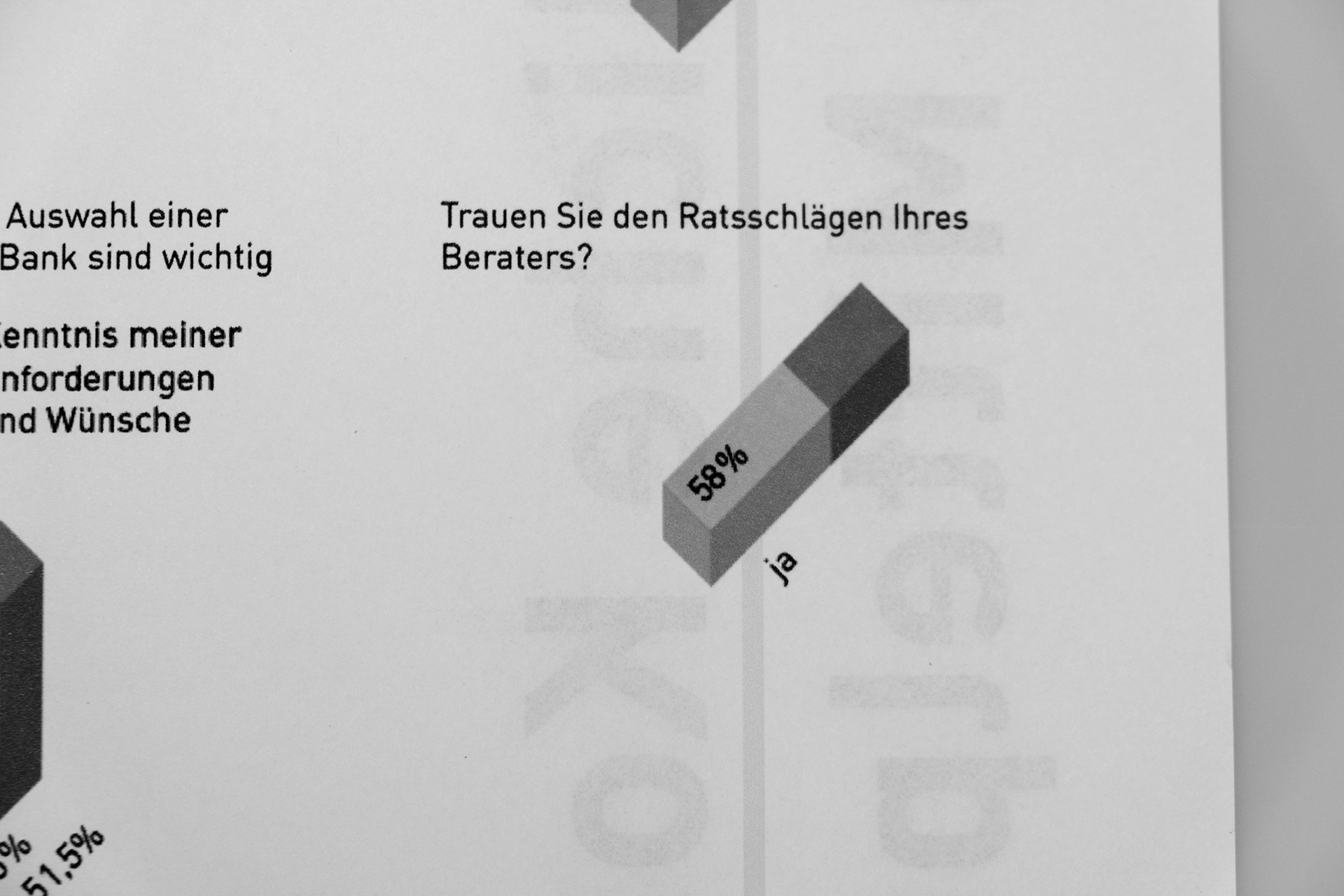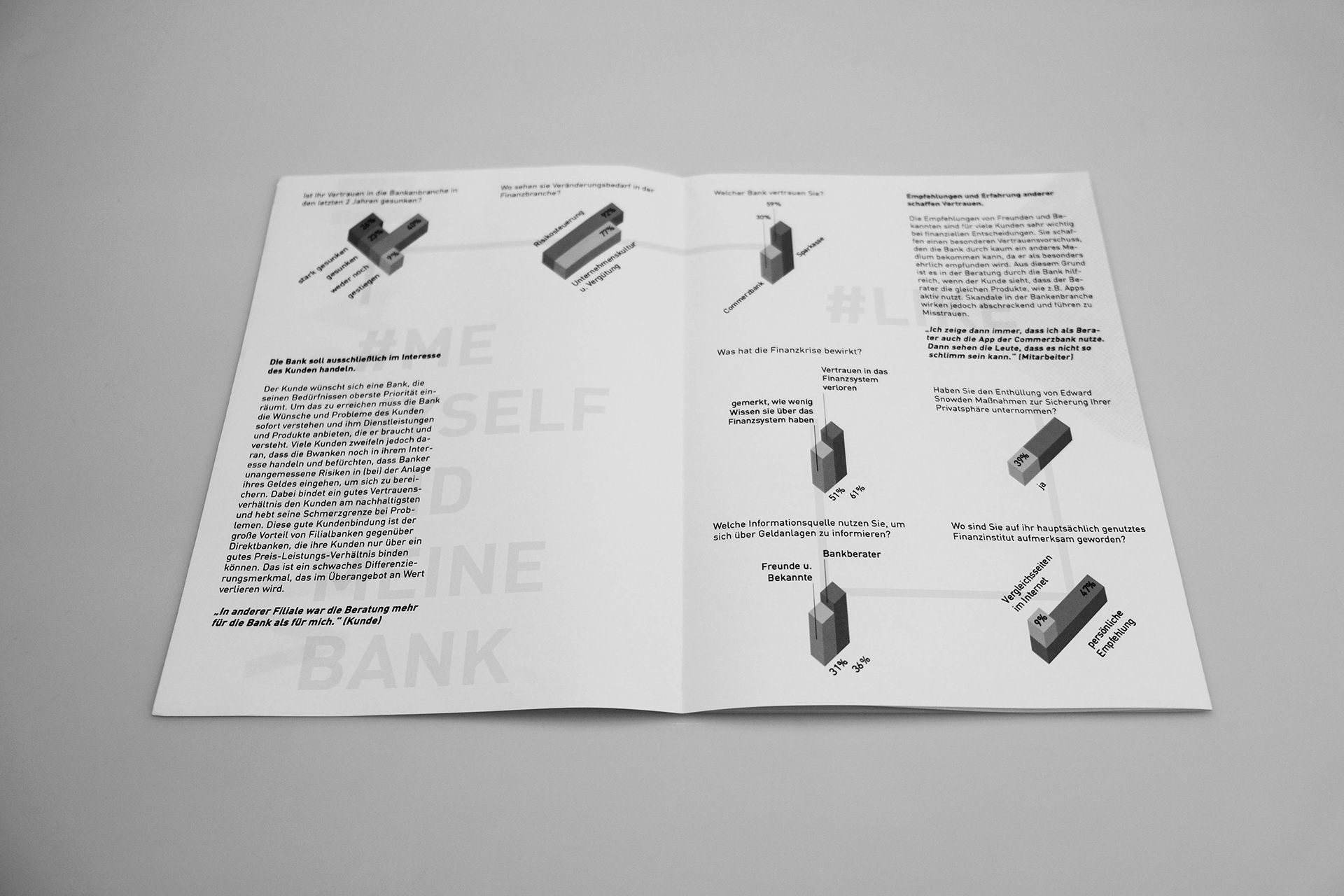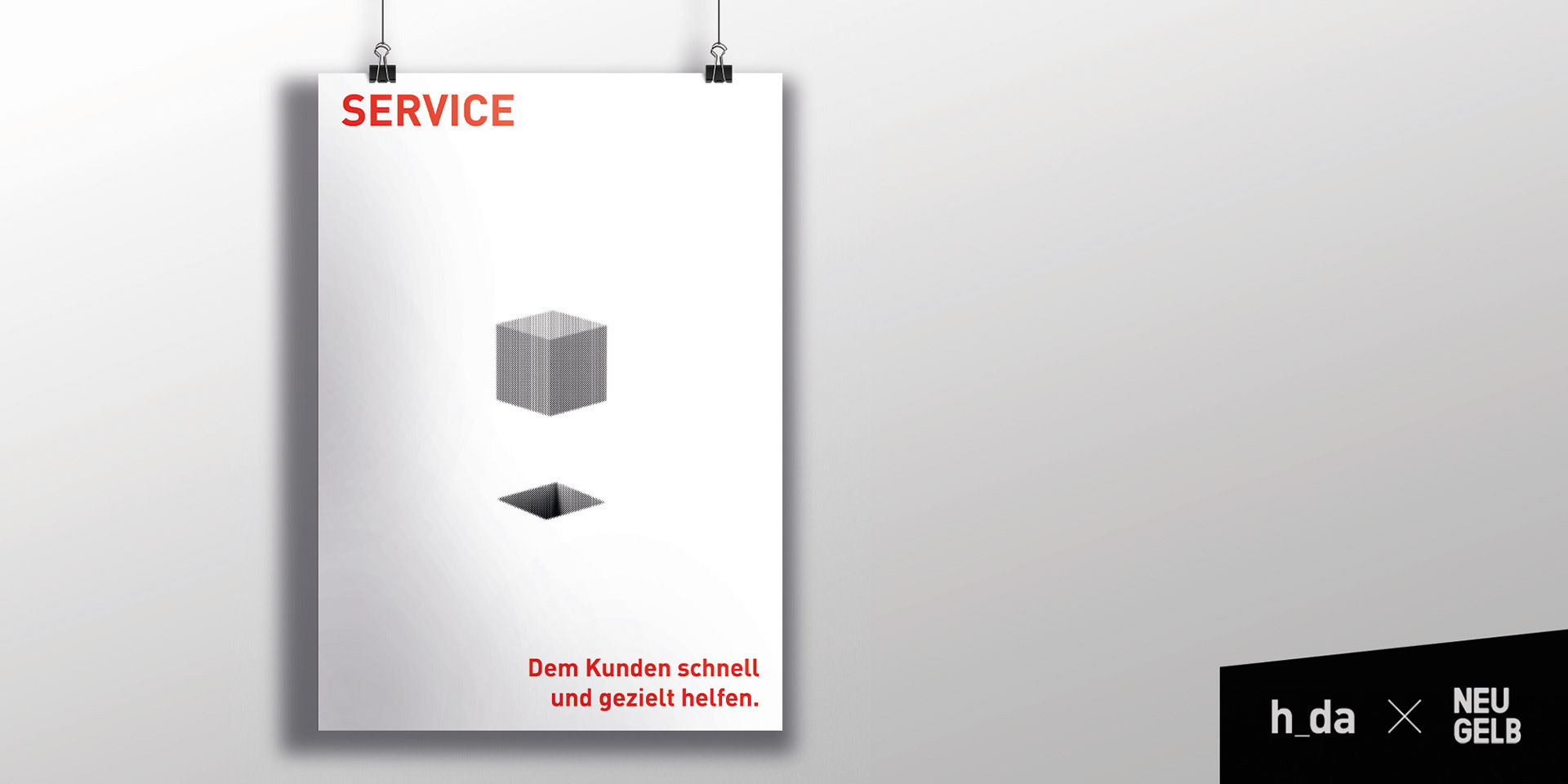 The bank acts as the host in order to ensure that the customer not only experiences the banking experience as smooth, but also as pleasant. To achieve this, it is crucial that employees are warm, uncomplicated, accessible and competent in all areas. Good service means good coordination by the bank so that urgent matters can be dealt with quickly. But good service also means investing time in customers who need personal contact.​​​​​​​
Die Bank fungiert als Gastgeber, damit der Kunde sein Bankerlebnis nicht nur als reibungslos, sondern auch angenehm empfindet. Dafür ist es entscheidend, dass die Mitarbeiter herzlich, umkompliziert, erreichbar und in allen Bereichen kompetent sind. Guter Service bedeutet eine gute Koordination vonseiten der Bank, damit dringende Anliegen schnell bearbeitet werden können, ohne dass der Kunde viel Zeit investieren muss. Guter Service bedeutet aber auch Zeit in die Kunden zu investieren, die einen persönlichen Kontakt brauchen.
"I then always show that I also use the app as a consultant. Then people see that it can't be that bad."
"Ich zeige dann immer, dass ich als Berater auch die App nutze. Dann sehen die Leute, dass es nicht so schlimm sein kann."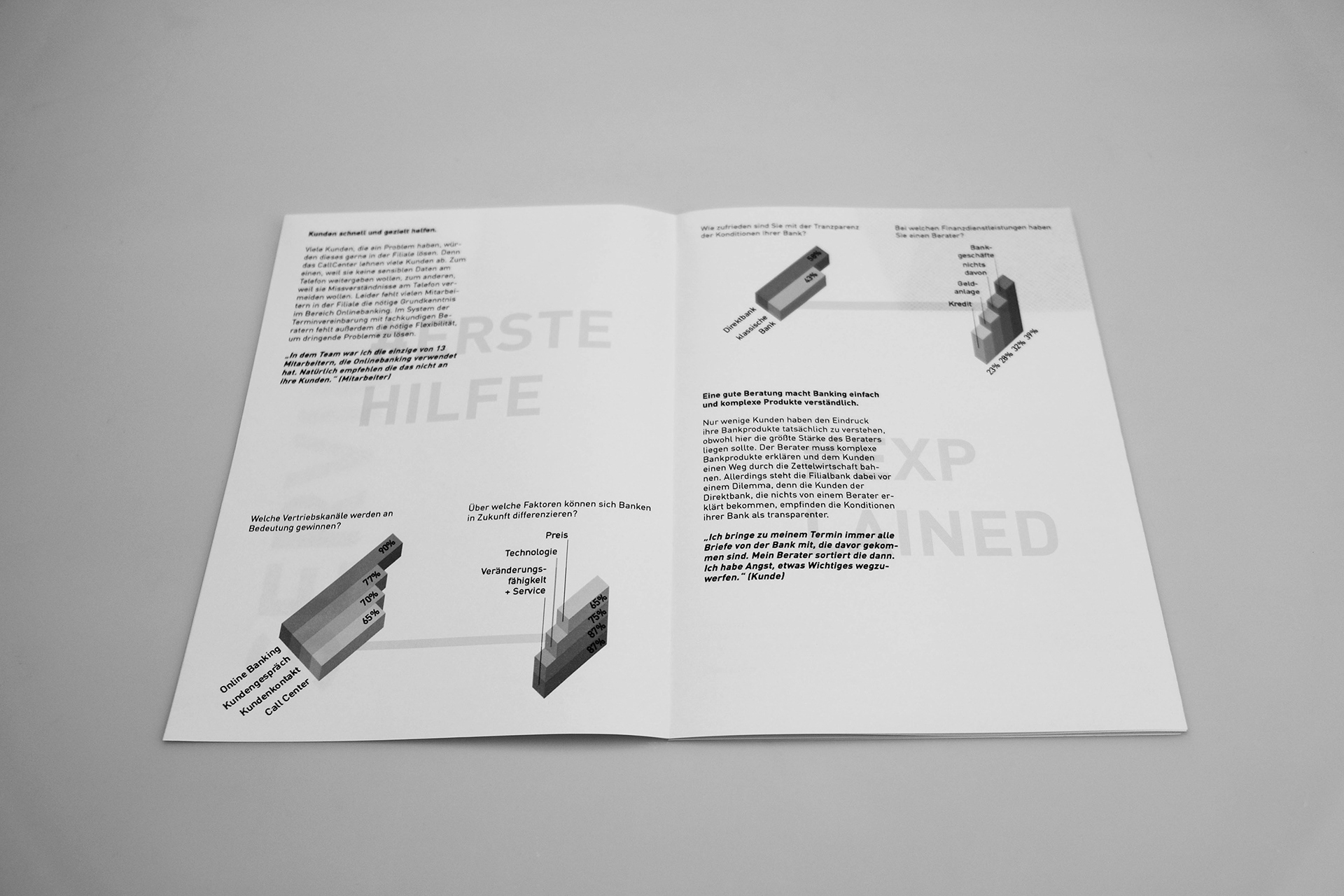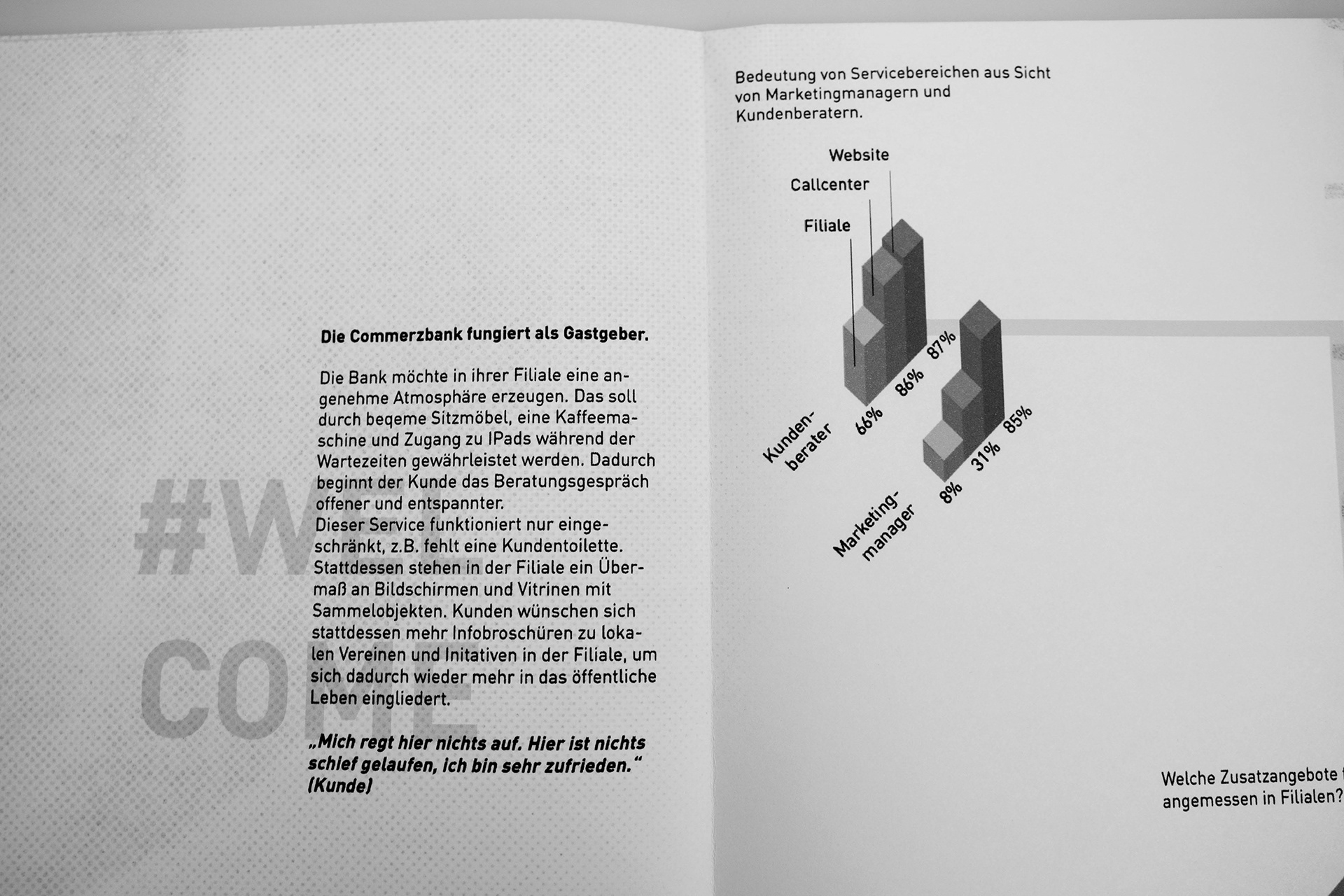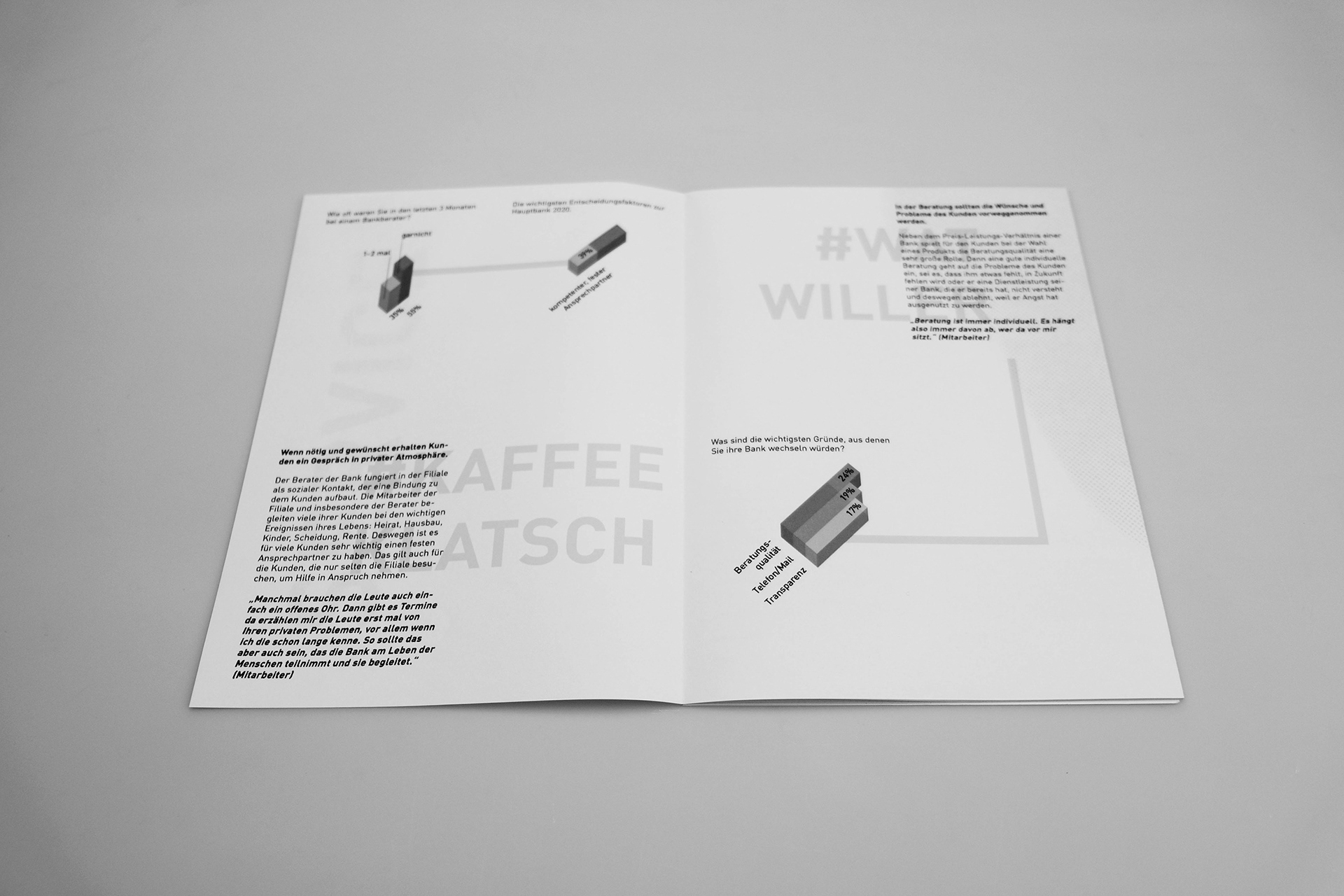 The relationship between man and system within the bank is complicated, because many work processes and procedures are not yet designed for digitization. Particularly in the area of digital workflows, there are many barriers in the way. These consist primarily of employees who resist digitisation for fear, or frustration, or guidelines and laws that dictate how the business relationship between customer and bank must exist. The consequences are particularly noticeable for the customer, who often wastes valuable time instead of receiving efficient advice. Moreover, by denying these digital services, the bank does not receive an individual profile that allows it to differentiate itself from the competition.​​​​​​​
Die Beziehung von Mensch und System innerhalb der Bank gestaltet sich kompliziert, da viele Arbeitsprozesse und Abläufe nicht auf eine Digitalisierung ausgelegt sind. Besonders im Bereich von digitalen Arbeitsabläufen stehen viele Hürden im Weg. Diese bestehen vor allem aus Mitarbeitern, die sich der Digitalisierung aus Angst, oder Frust verwehren, oder Richtlinien und Gesetze, die vorschreiben wie das geschäftliche Verhältnis von Kunde und Bank zu bestehen hat. Die Folgen sind vor allem für den Kunden spürbar, da er häufig wertvolle Zeit verschwendet, anstatt eine effiziente Beratung zu erhalten. Darüber hinaus erhält die Bank durch Verwehrung dieser digitalen Serviceleistungen kein individuelles Profil, das ihr ermöglicht sich von der Konkurrenz abzusetzen. 
"I have to get a cell phone now!" 


- Customer -



"Ich muss mir jetzt ein Handy anschaffen!"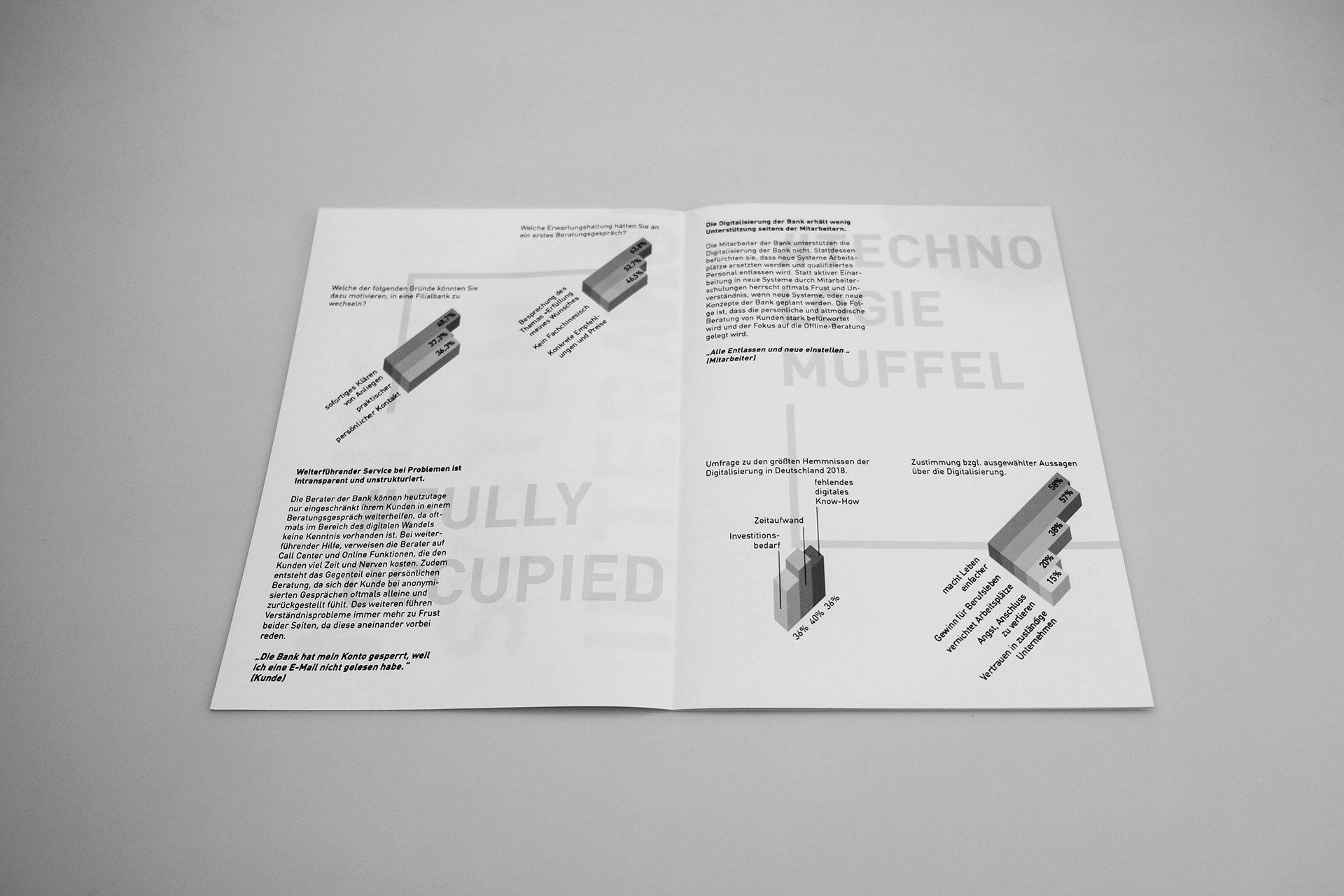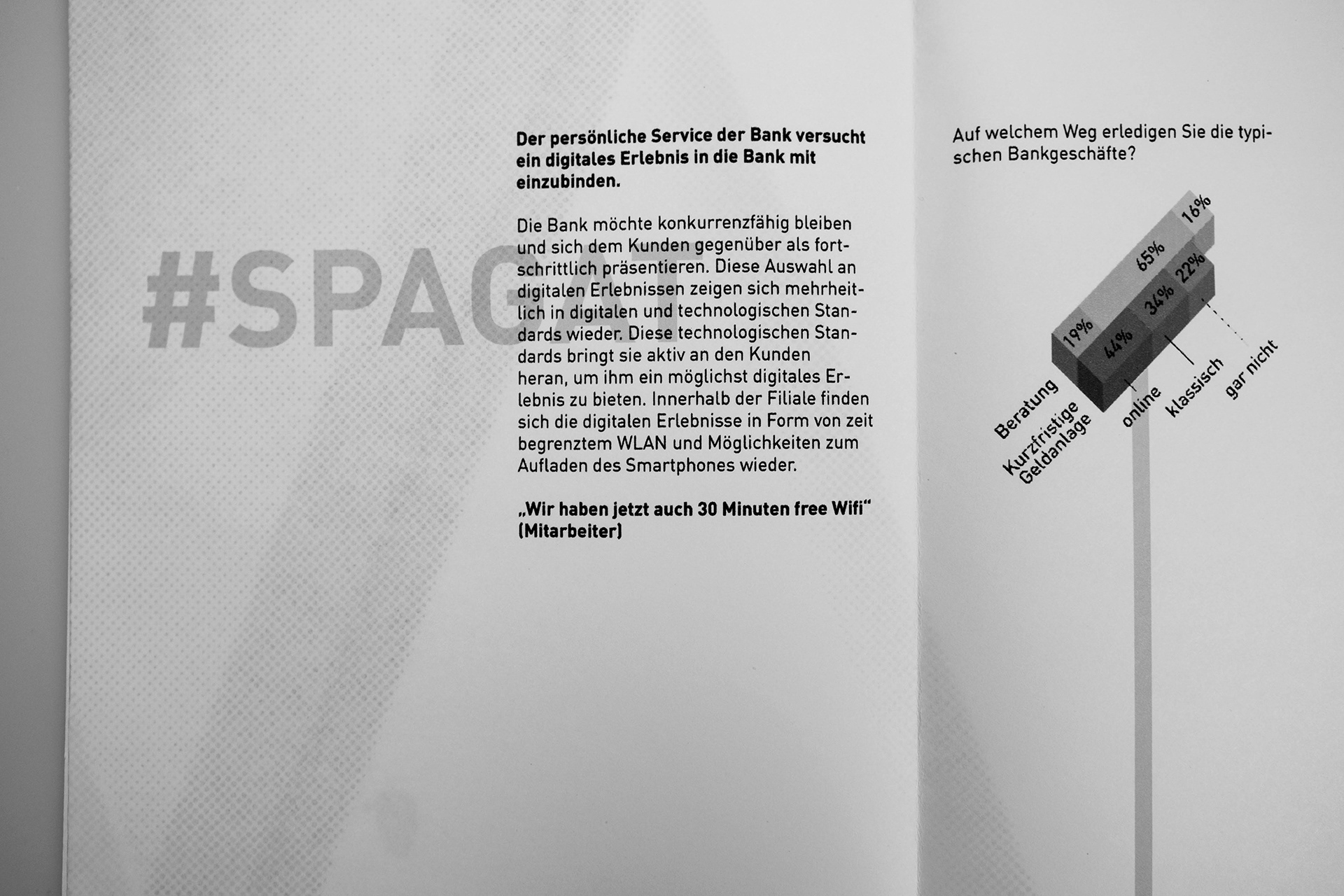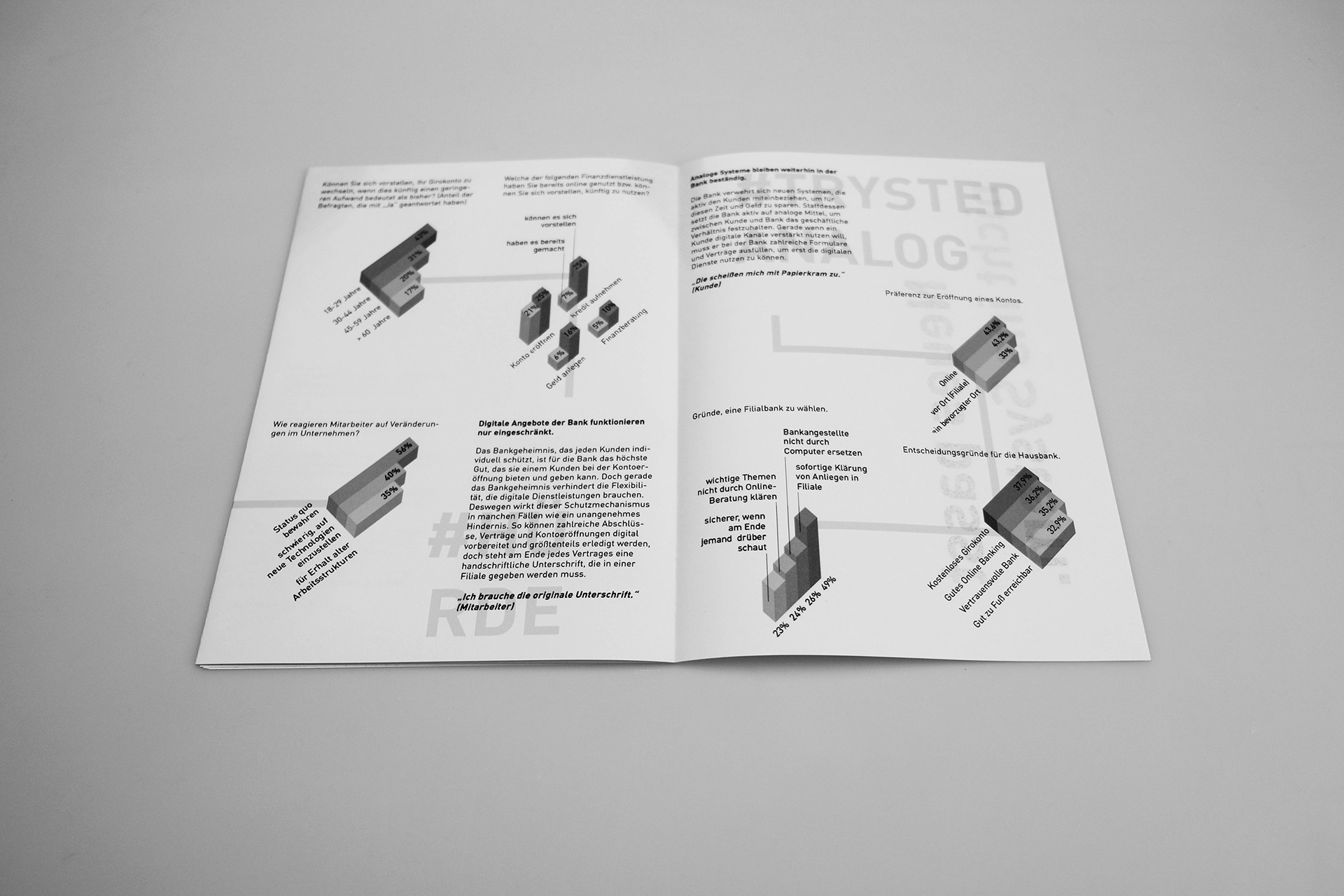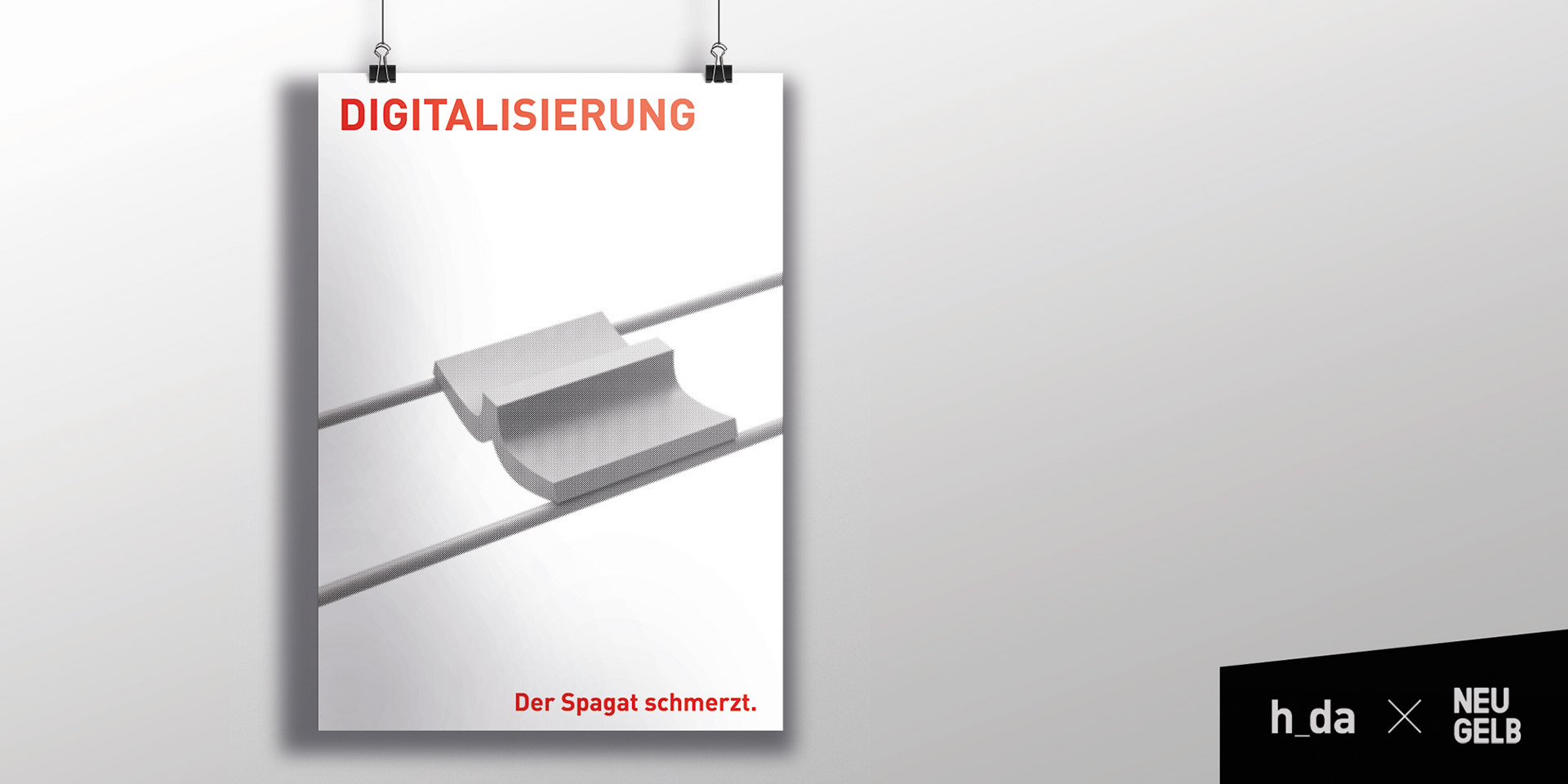 Digitalisation is a major challenge for the bank, as it tries to find its position between a fast, direct and up-to-date online service and personal customer-oriented advice. In addition, the bank finds it difficult to integrate digital standards into the bank, as old systems and employees make it difficult to optimize processes.
Die Digitalisierung stellt die Bank vor eine große Herausforderung, da sie versucht ihre Position zwischen einem schnellen, direkten und zeitgemäßen Online Service und persönlicher kundenorientierten Beratung zu finden. Desweiteren tut sich die Bank schwer, digitale Standards in die Bank mit einzubinden, da alte Systeme und Mitarbeiter die Optimierung von Abläufen erschweren. 
"You're competent, but it all takes so long."
"Sie sind kompetent aber es dauert alles so lange." 


- BankKunde -​​​​​​​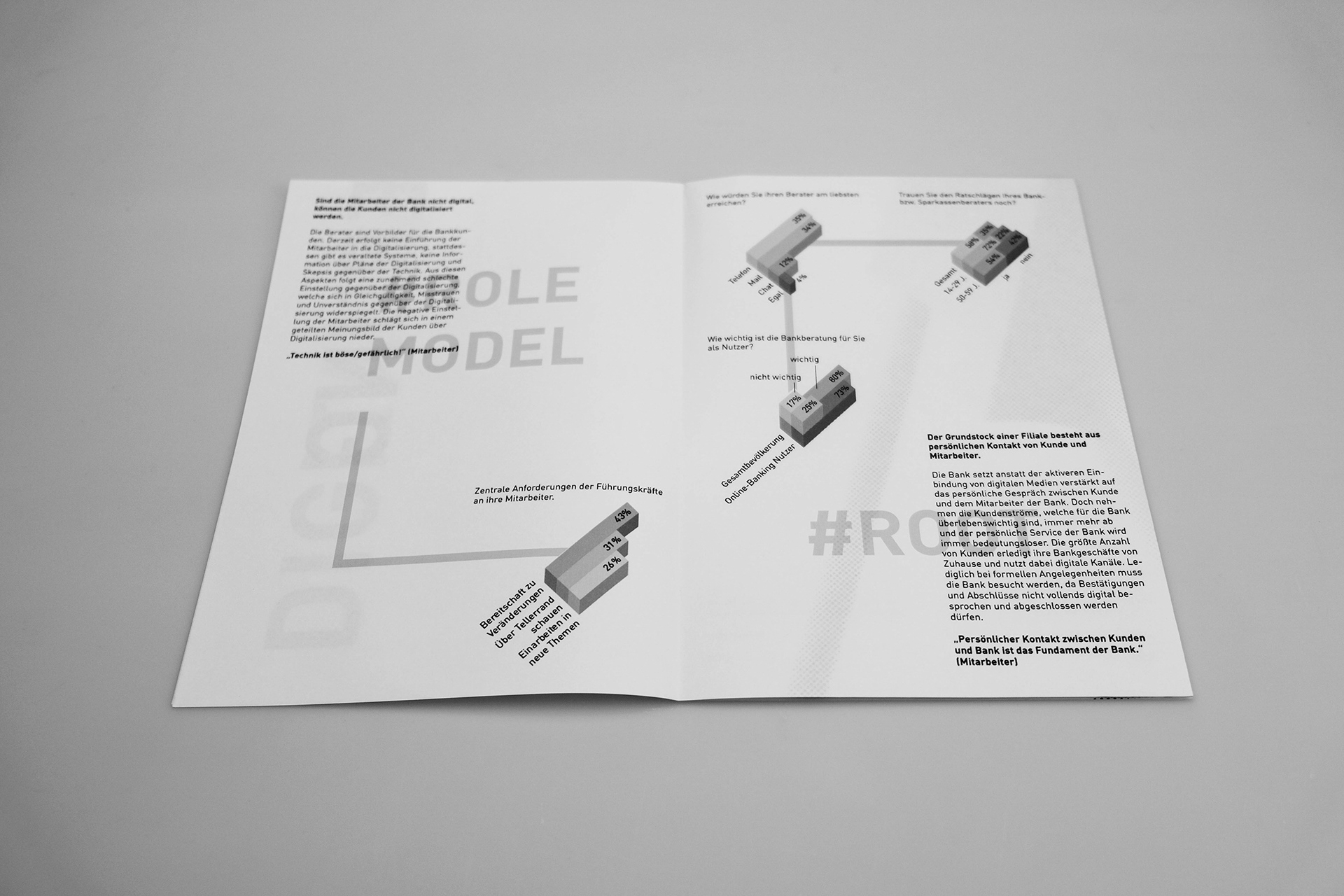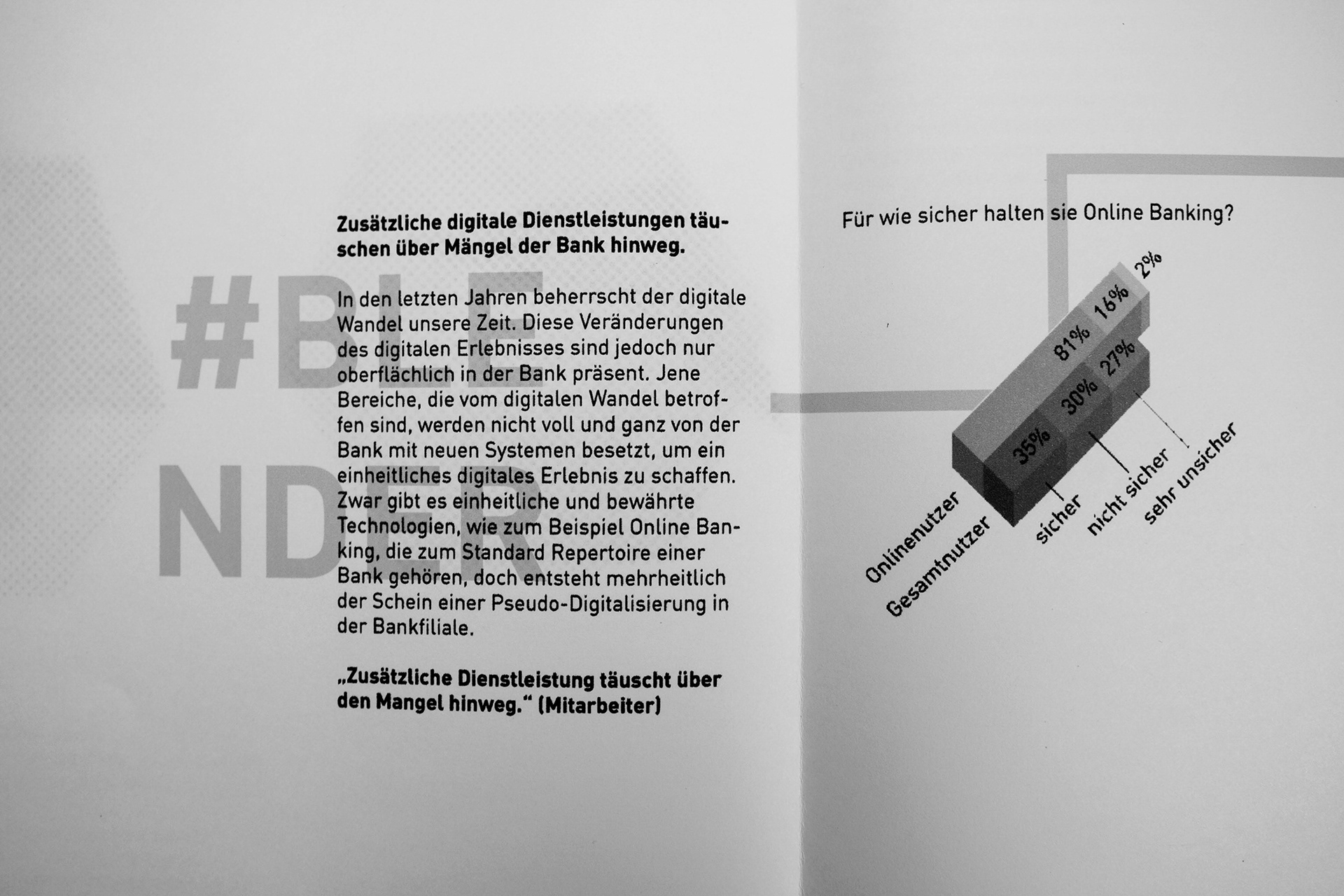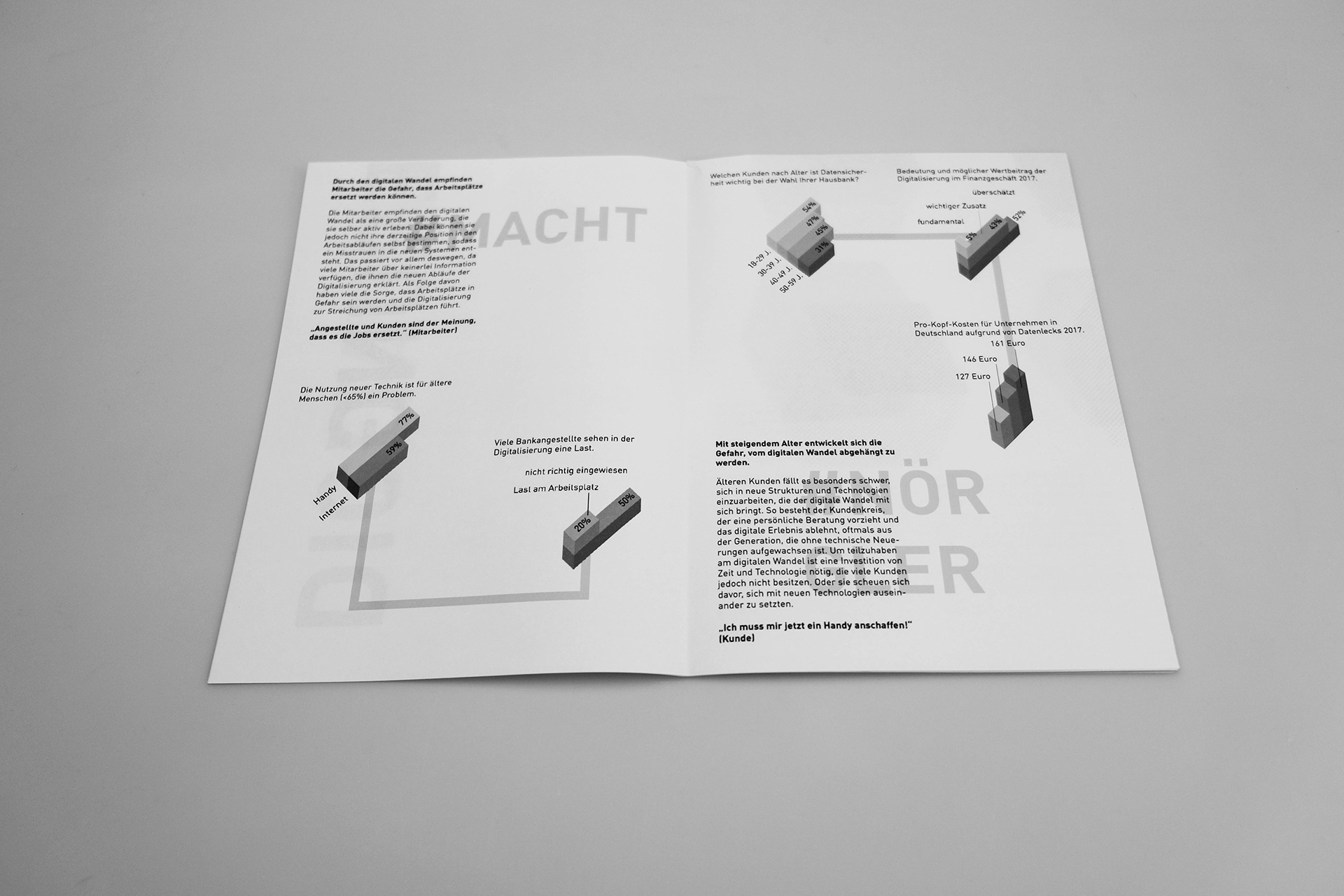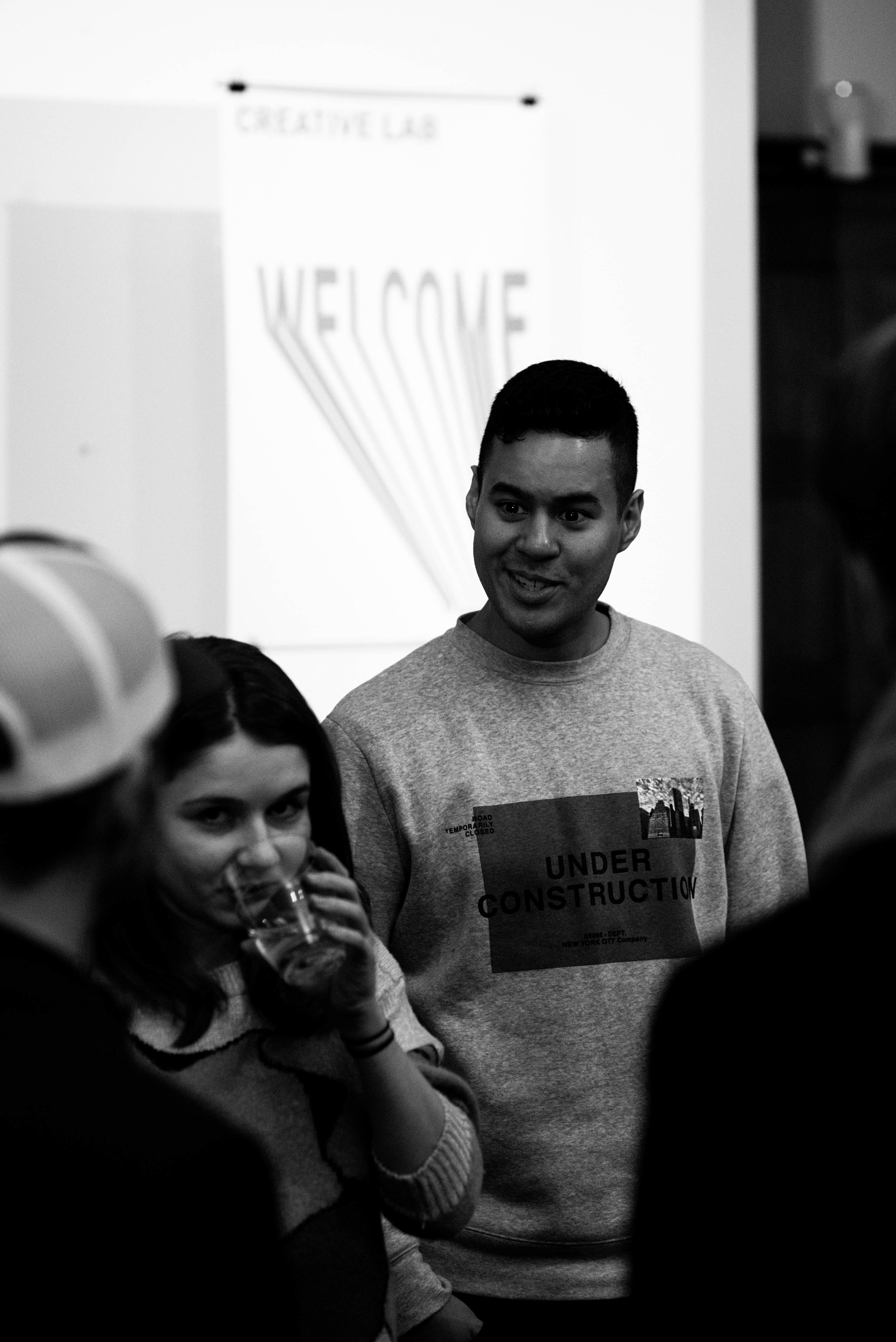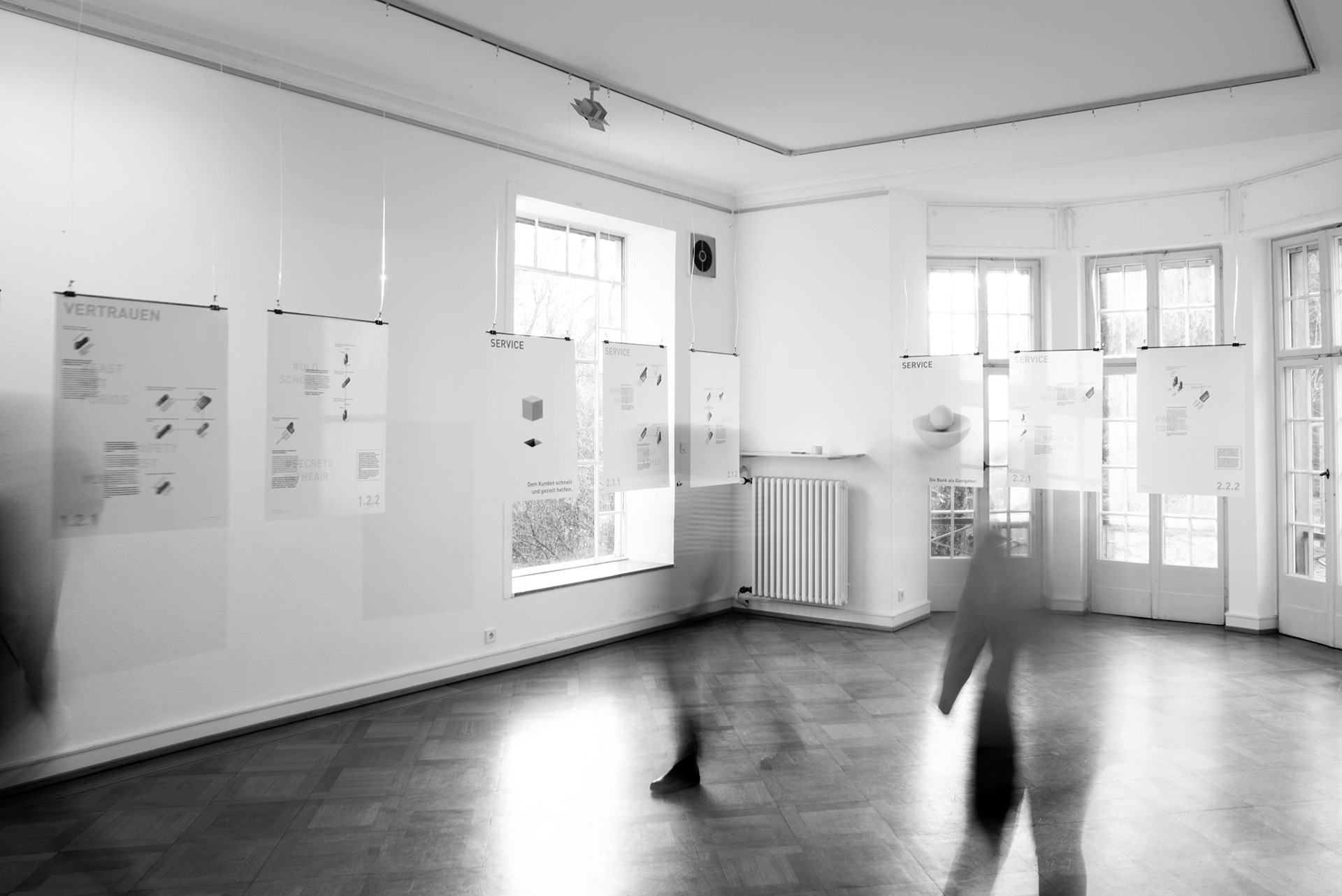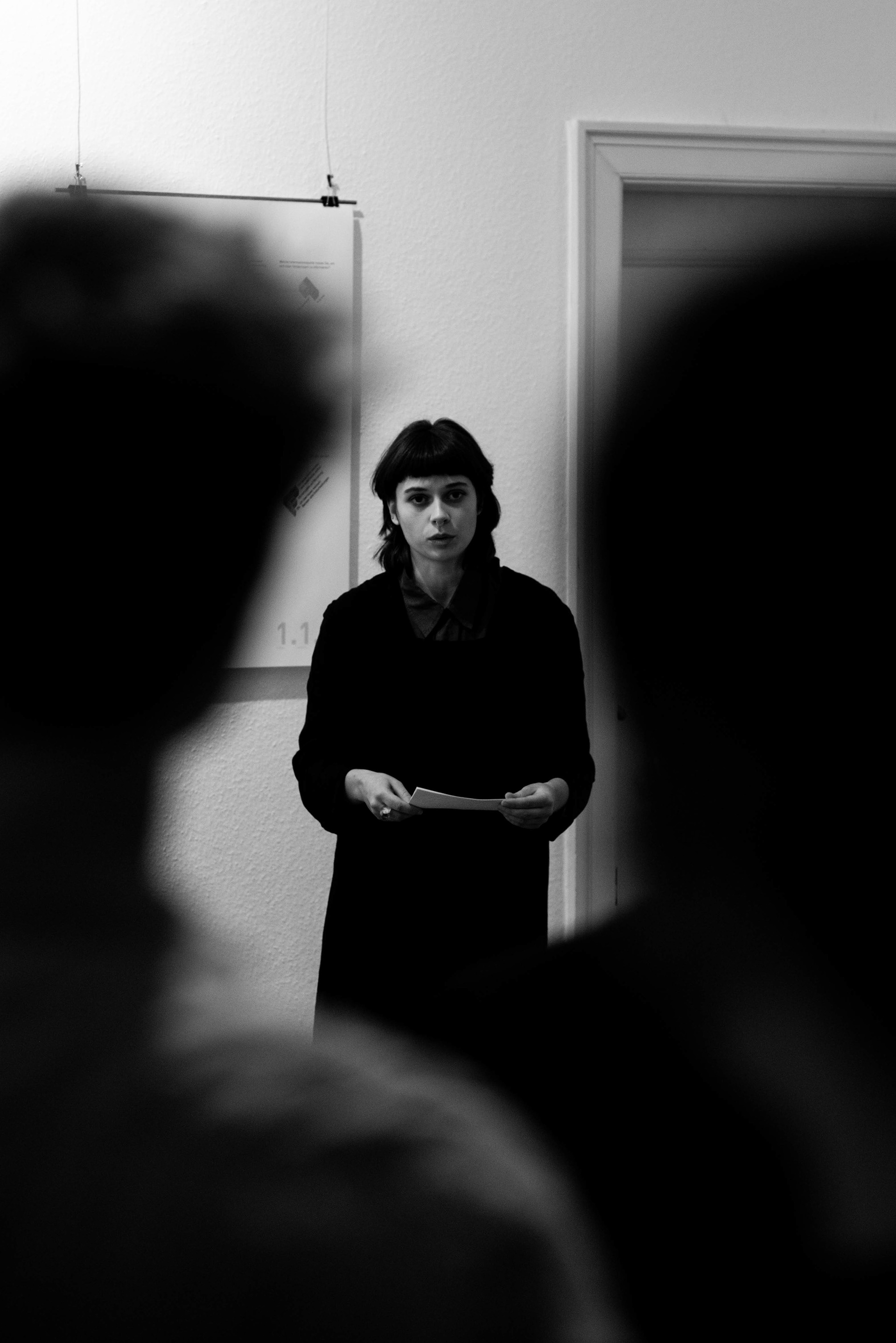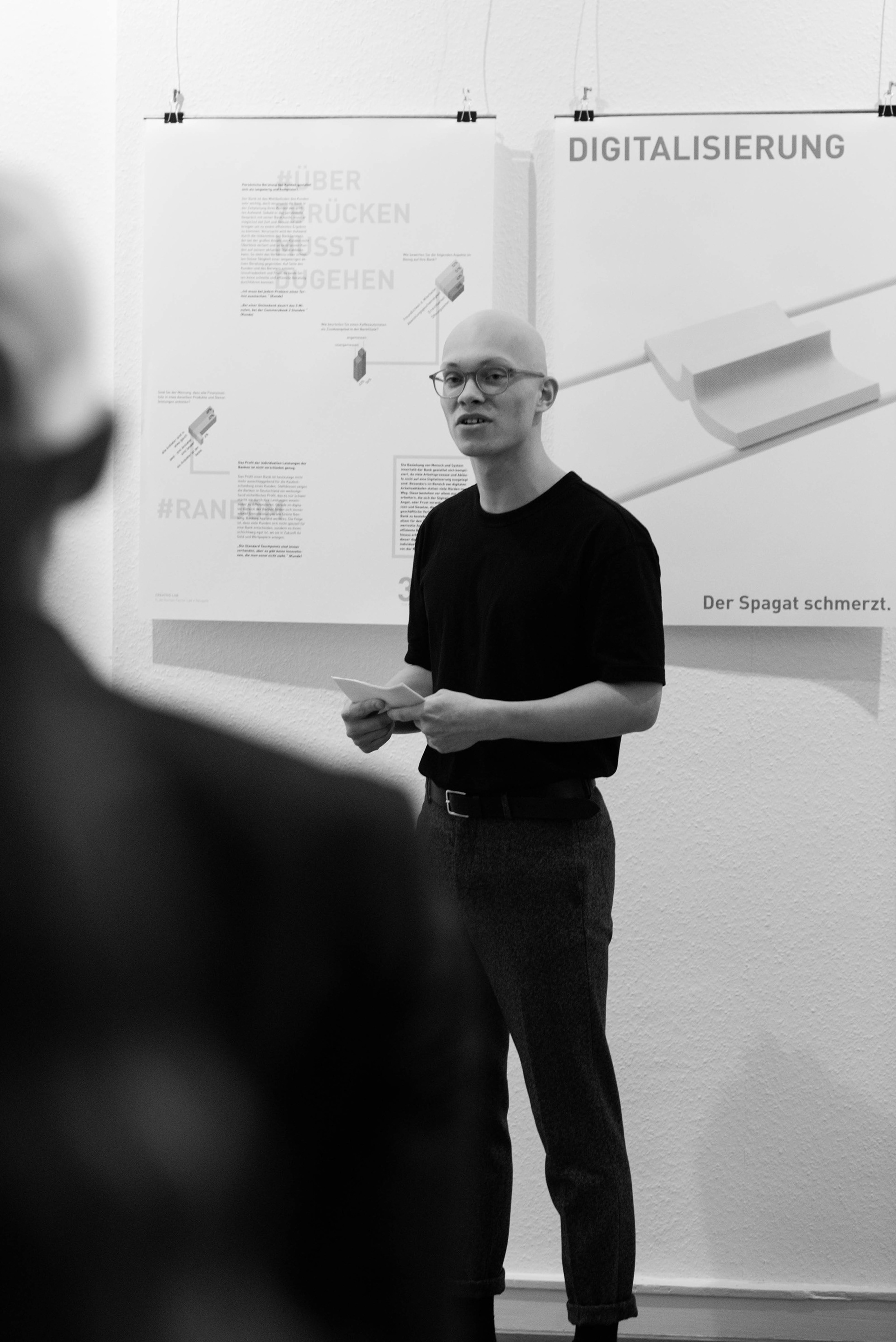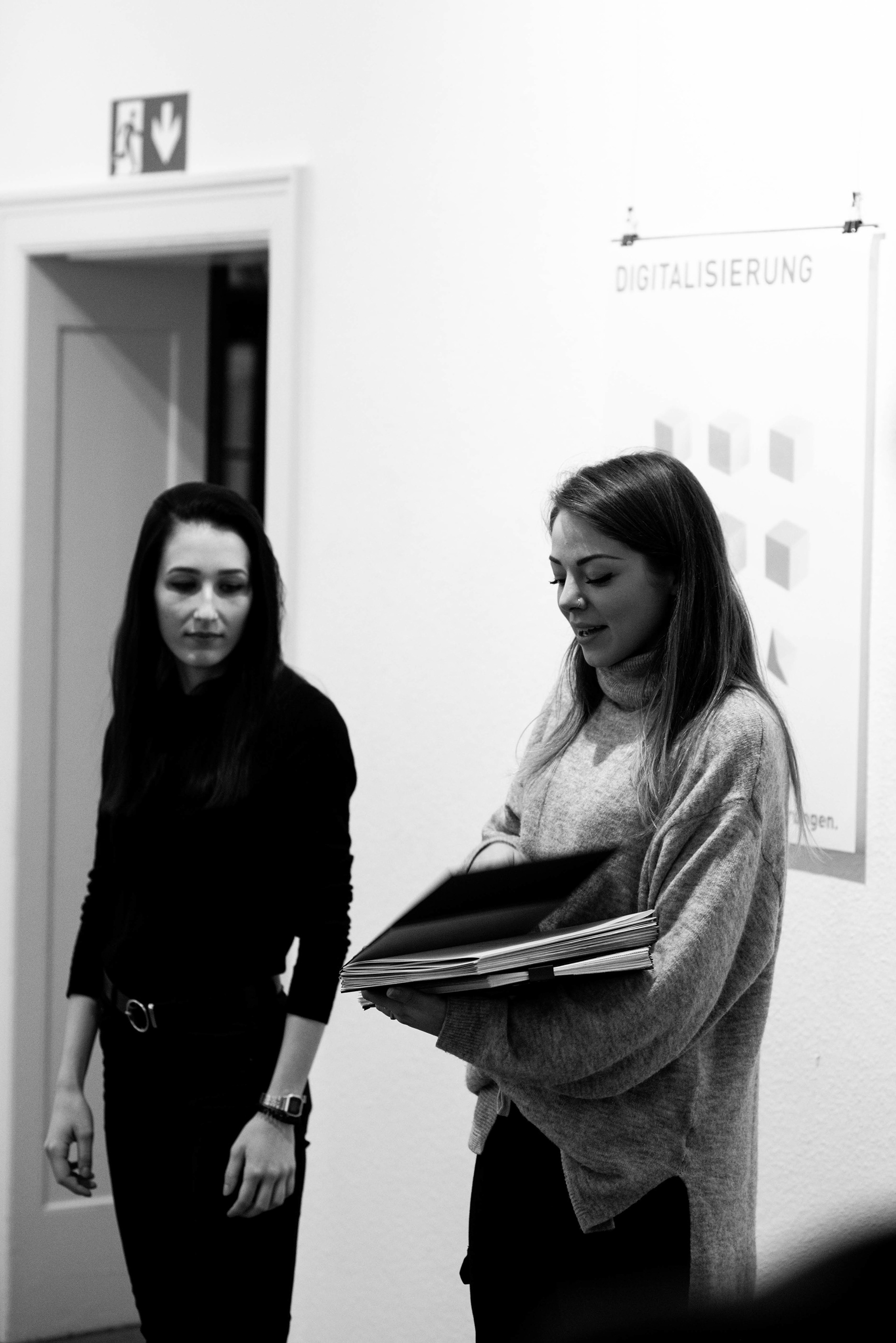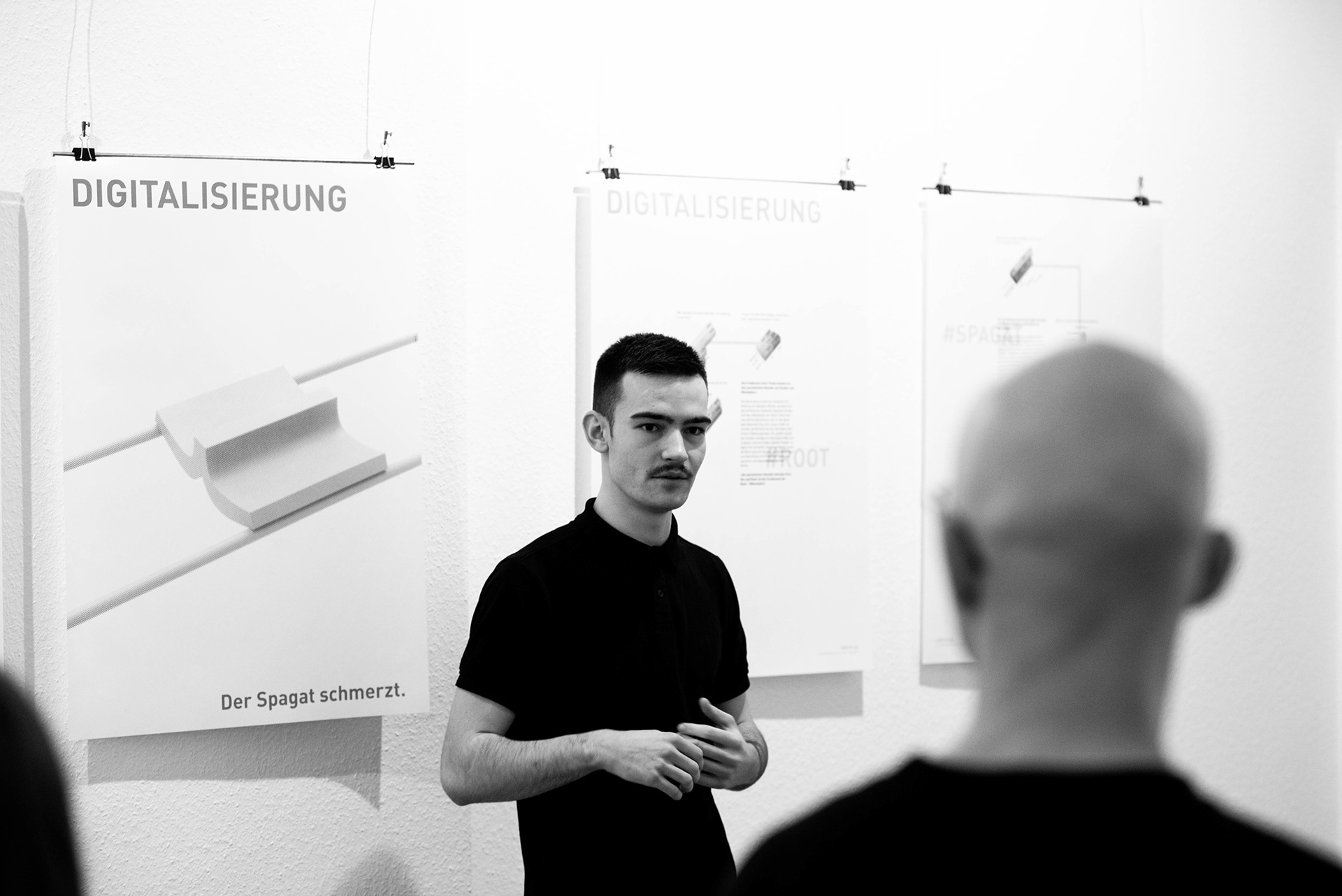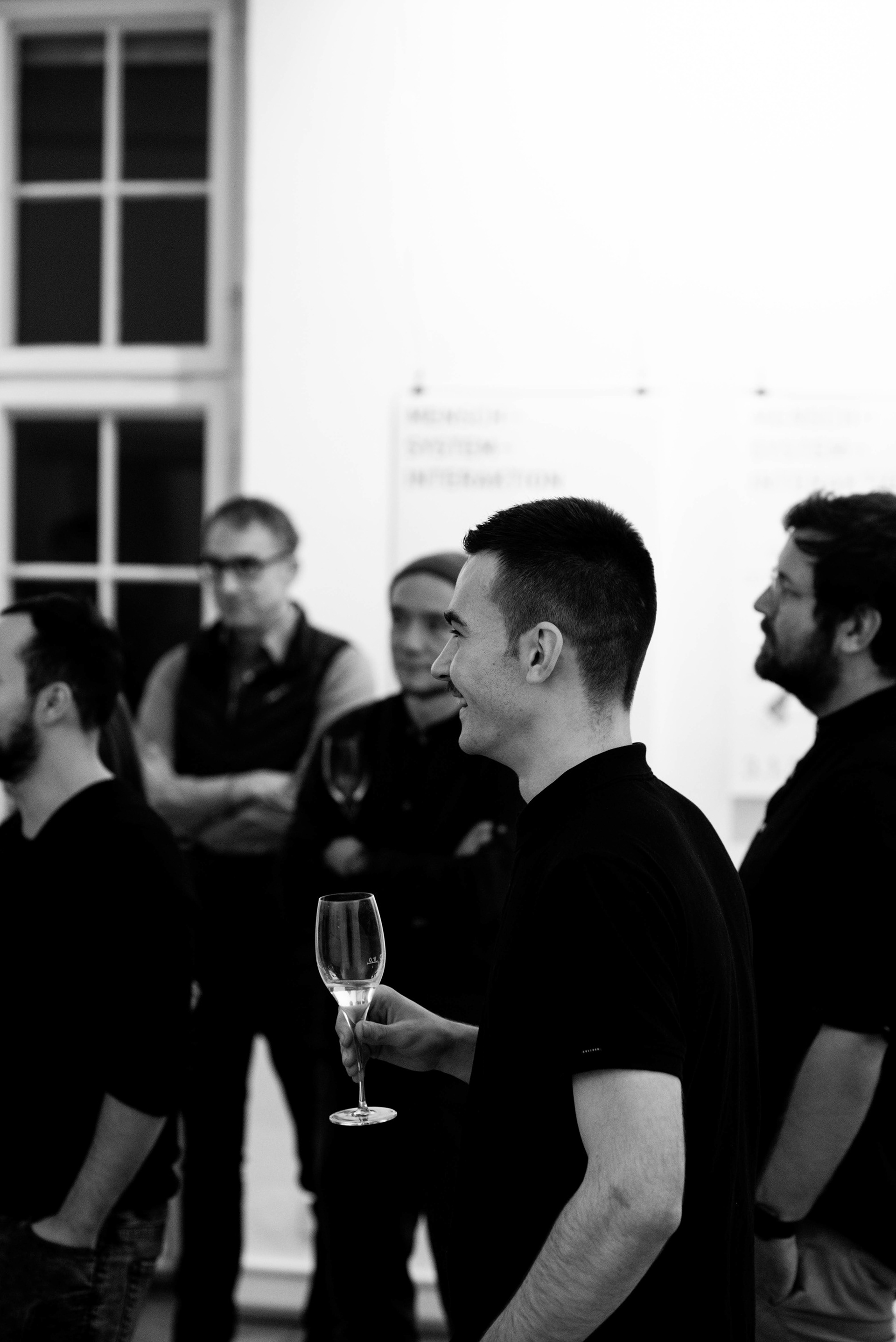 Design by Benedikt Schneeberg, Darleen Mittelstaedt, Fabio Sacher, Felicia Burger, Felix Pany, Jiming Yi, Lars Herzog, Rebecca Roell, Sabeth Wiese, Victoria Lemke, Yi-Feng Lin
Supervision: Prof. Philipp Thesen (Human-System-Interaction)                                                                                                                                                                      
Design von Benedikt Schneeberg, Darleen Mittelstädt, Fabio Sacher, Felicia Burger, Felix Pany, Jiming Yi, Lars Herzog, Rebecca Röll, Sabeth Wiese, Victoria Lemke, Yi-Feng Lin
Betreuung: Prof. Philipp Thesen (Mensch-System-Interaktion)