"Massiv in der Anmutung aber weich in der Form."
Zielsetzung des Entwurfs war die Ausarbeitung einer formal anmutenden Sitzgelegenheit aus Glas.      Abstammend vom germanischen Wort "glasa" - "das Glänzende, Schimmernde", definiert der Sammelbegriff eine Gruppe amorpher Feststoffe, welche im entsprechenden Glaszustand kristallisieren. Der Entwurf spiegelt hierbei die Umkehr der konstruktiven Logik wieder und betont den eigentlichen Widerspruch des Materials.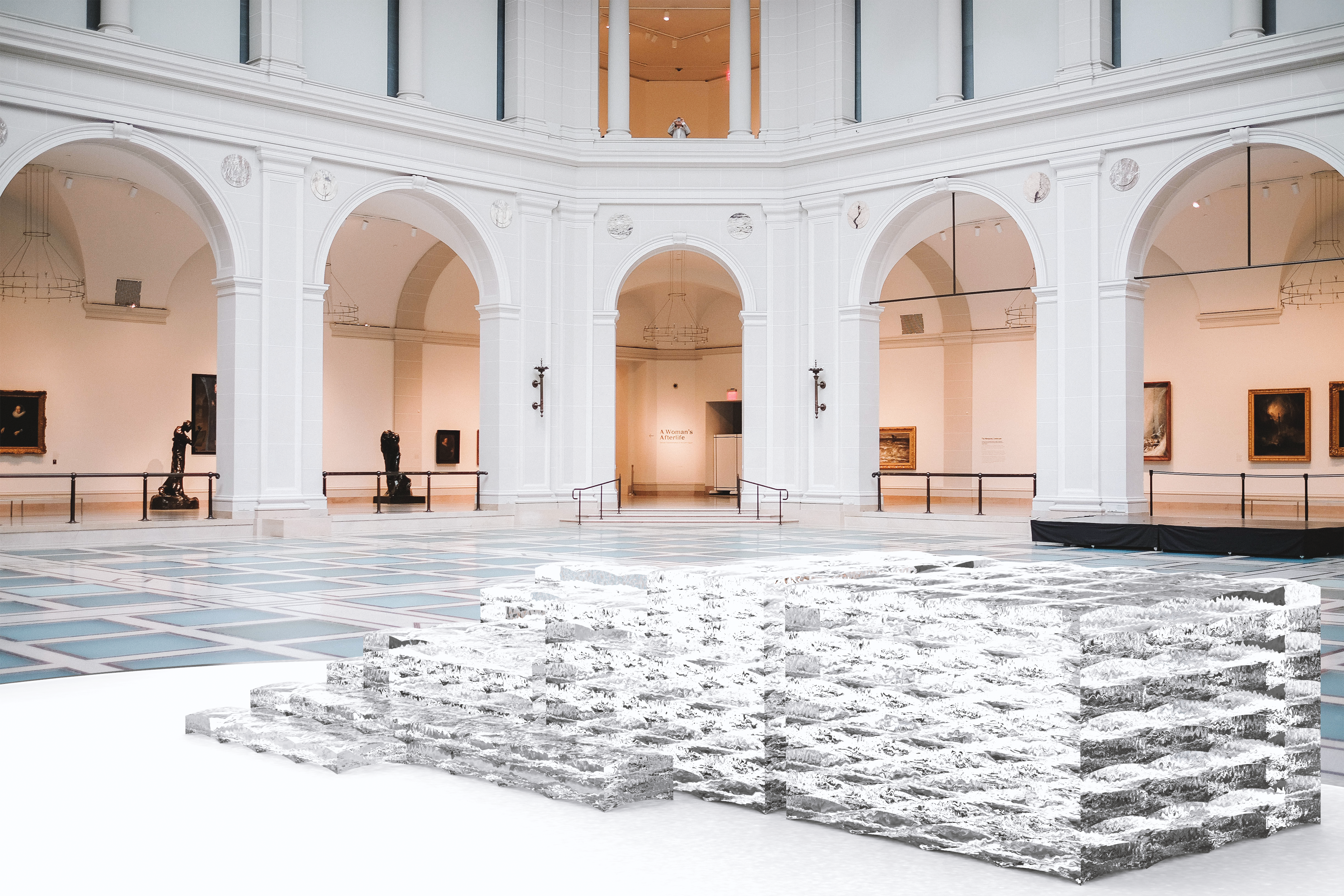 The building blocks are made of soda-lime glass in graphite molds by die-casting.
In order to avoid possible damage due to tension in the material, the cast glass blocks are slowly cooled and then removed from the mold. Soda lime glass has a density of 2.5g / sqcm. A single stone (dimensions approx. 20 x 80 x 6 cm) has a volume of 9,600 square cm and weighs 24 kg.
Die Bausteine werden aus Kalknatronglas in Graphitformen im Pressguss produziert.
Um eventuelle Schäden durch Verspannung im Material zu vermeiden werden die gegossenen Glasbausteine langsam abgekühlt und im Anschuss entformt. Kalknatronglas hat eine Dichte von 2,5g/qcm. Ein einzelner Stein (Maße ca. 20 x 80 x 6cm) besitzt hierbei ein Volumen von 9.600 qcm und wiegt 24kg.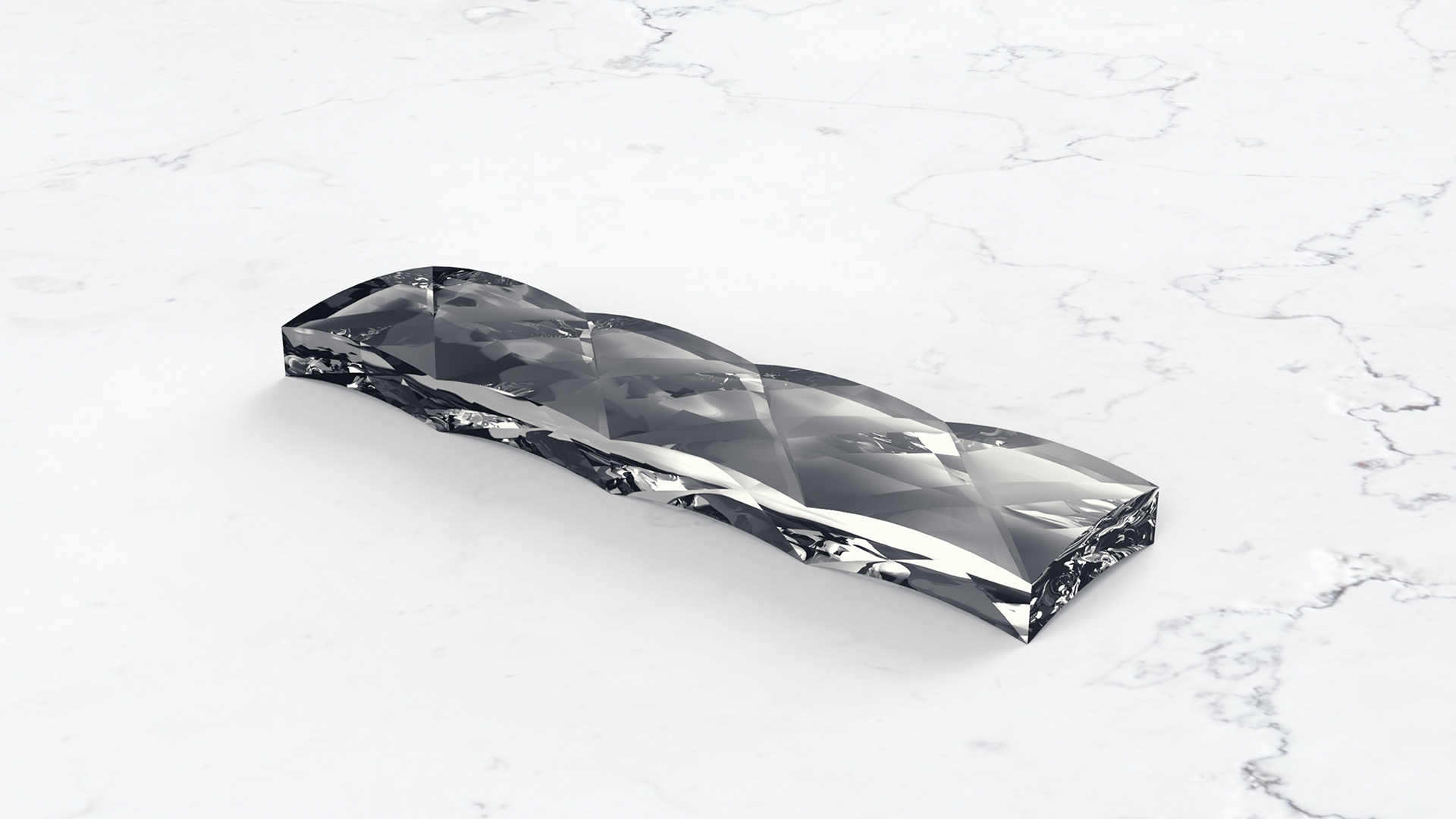 The glass blocks are individually offset to form a massive and constructively composed of stable bench. The stones reflect convex shell components with a thickness of 6cm. As a result, the stone has a three-dimensional expansion around its longitudinal axis, which in turn is composed of four elements. As is usual with arched constructions, there are no bending or tensile forces, but the payload and dead weight only produce compressive forces. The massive casting mold effectively counteracts the horizontal thrust, so that pressure and thrust forces can be diverted downwards via the arches. The flat format in combination with the high weight and secure stacking make the bench stable even without gluing.
Die Glasbausteine werden einzeln im Versatz zu einer massiven und konstruktiv stabilen Bank zusammengesetzt. Die Steine spiegeln konvexe Schalenbauteile mit einer Dicke von 6cm wider. Hierdurch besitzt der Stein eine dreidimensionale Ausdehnung um seine Längsachse, die sich wiederum aus vier Elementen zusammensetzt. Wie bei gewölbten Konstruktionen üblich, treten keine Biege- und Zugkräfte auf, sondern Nutzlast und Eigengewicht rufen ausschließlich Druckkräfte hervor. Durch die massive Gussform wird dem horizontalen Schub effektiv entgegengewirkt, sodass Druck- und Schubkräfte über die Bögen nach unten abgeleitet werden können. Das flache Format in Kombination mit dem hohen Gewicht und einer sicheren Verstapelung machen die Bank auch ohne Kleben stabil.